Tradesmart – Can You Trust This Broker?

Nowadays we are seeing a tremendous rise in Forex brokers as more and more people show interest in the trading world. Even though a great number of brokerage platforms bring more customers and have an overall positive effect on the market, we have to say that there are considerable drawbacks as well. For instance, the popularity of Forex brokers has induced some people to establish fake platforms where they would steal customers' funds. 
The victims of such platforms generally become newcomers in this field as they are not aware of the true working mechanism behind Forex brokers. In order to prevent being deceived, you need to see whether the platform is regulated or not and if it carries a license from a trustworthy company. This is proof that the broker is legit and reliable, so you don't have to worry about anything there. As for the scammers, usually, they don't provide any kind of information regarding this subject, that's why it is important to check this before signing up. 
We at InsiteTrade try to identify every reliable and fake Forex broker and show every customer which one they can trust. If you don't pay attention to regulations on the broker websites, then you might easily get deceived by their lucrative and generous proposals, especially when you are not experienced enough as a trader. Down below, we are going to review one of the brokers called Tradesmart and answer the most important question asked around it – is Tradesmart legit, and can it be trusted? You will find the answer to this question down below, and as a result, you will be able to make a decision accordingly! 
The Website

We would like to start by describing the interface of their website. At first glance, it seems pretty attractive since everything is written in extremely large font, but we have to say that we were not impressed by the graphics or colors. Despite the fact that this Forex broker has been operating on the market for 6 years now, the website lacks some of the most significant sections such as educational content and several other ones. So, experienced traders will be full of doubts from the very first second after entering this platform. 
One more drawback of their website is that it is quite difficult and bothersome to navigate through different sections as you need to scroll down all the time to read every piece of information. The navigation bar is located on the top side of the site that allows you to open various departments such as account types, trading platforms, promotions, tools, and so forth. 
Hence, we can deduce that the interface of this website seems way too simplified which creates a major question mark. The main reason is that popular and most frequently-used Forex brokers include much more sections and information on their platform compared to this one. So, there is a strong argument to think that Tradesmart can be lying to customers by offering simple yet appealing services, but in reality, they will steal all your funds!
The License
As we have mentioned above, the most important aspect to pay attention to is a license. A reliable Forex broker should provide information regarding their license and the company that regulates it. Usually, information regarding this matter lies on the bottom side of the website, so we would recommend checking it as soon as you enter the platform. 
By searching for a long time on the Tradesmart site, we could not find any piece of information indicating license and regulators. The only sentence available regarding this subject is – "This website is not directed at any jurisdiction and is not intended for any use contrary to local law or regulation." So, they are directly saying that the platform is not regulated by any kind of governmental organization which is the main reason why we are so doubtful about it. 
This means that in case you encounter unlawful behavior on their end, there is no way to open a dispute and start a case against them since there are no laws regulating Tradesmart. There is absolutely zero info about the address of the company, owners, or regulators, therefore, this platform is nothing but a scammer in our opinion. 
Trading Platforms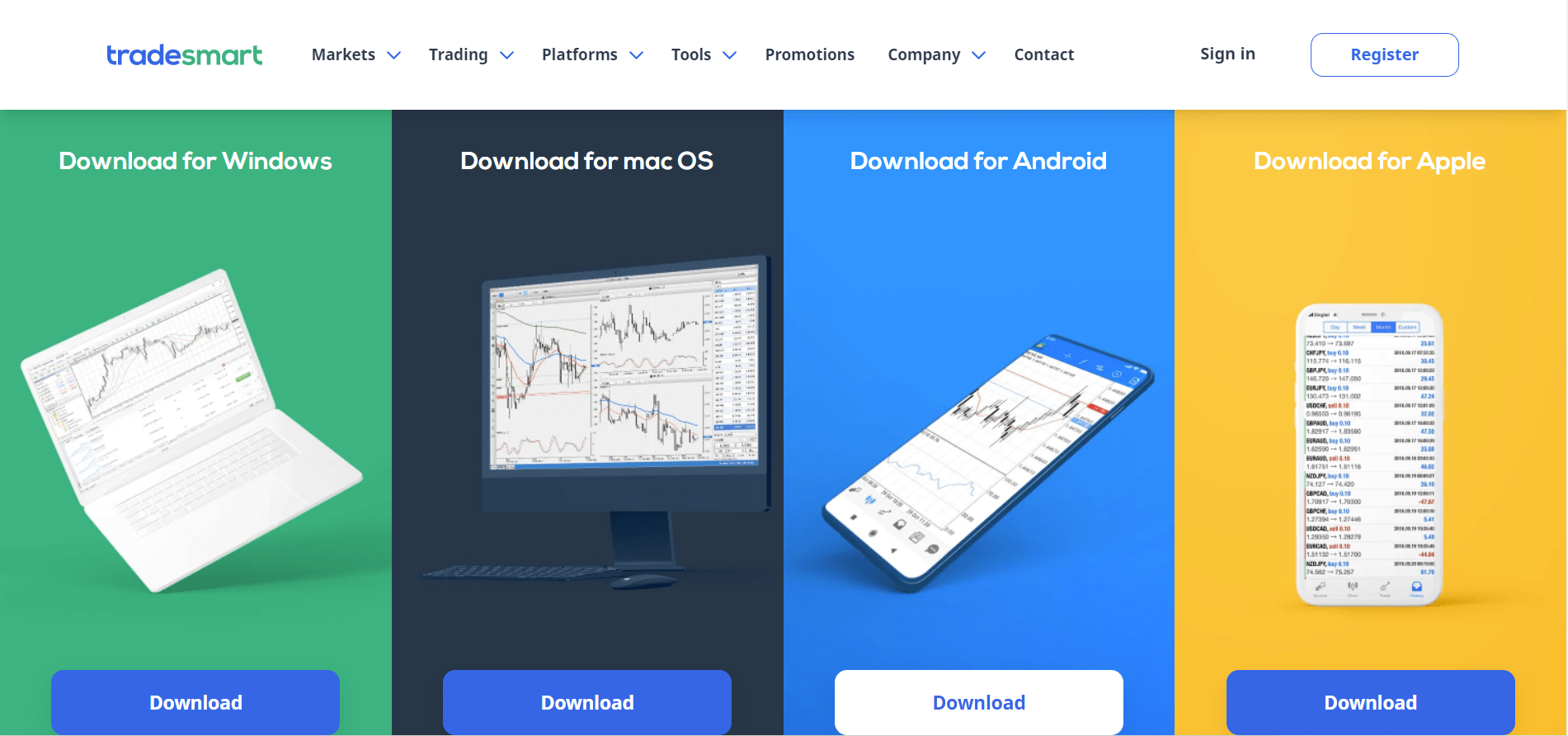 We have to note that Tradesmart features some of the most famous and frequently-used trading softwares such as Meta 4, Meta 5, and PAMM. Metatrader 4 is the single best program used all over the world as it offers every essential service to traders. It makes life easier even for beginners in the trading world by providing an easy-to-understand interface, and as a result, you have the possibility to perform trading processes without any difficulty. We can say the same for Meta 5 since it is also used widely with great success. The PAMM Programme offers customers to become investors on this platform and take advantage of various beneficial offers such as advanced technology, full transparency, top trading conditions, and so on. 
However, we think that this is one more strategy to deceive users by making them think that the best trading softwares are available here. The novice traders might easily get swindled by this technique, but our experienced eyes have noticed that there is a scammer hiding behind a good-looking broker who is trying to steal all your money. 
Account Types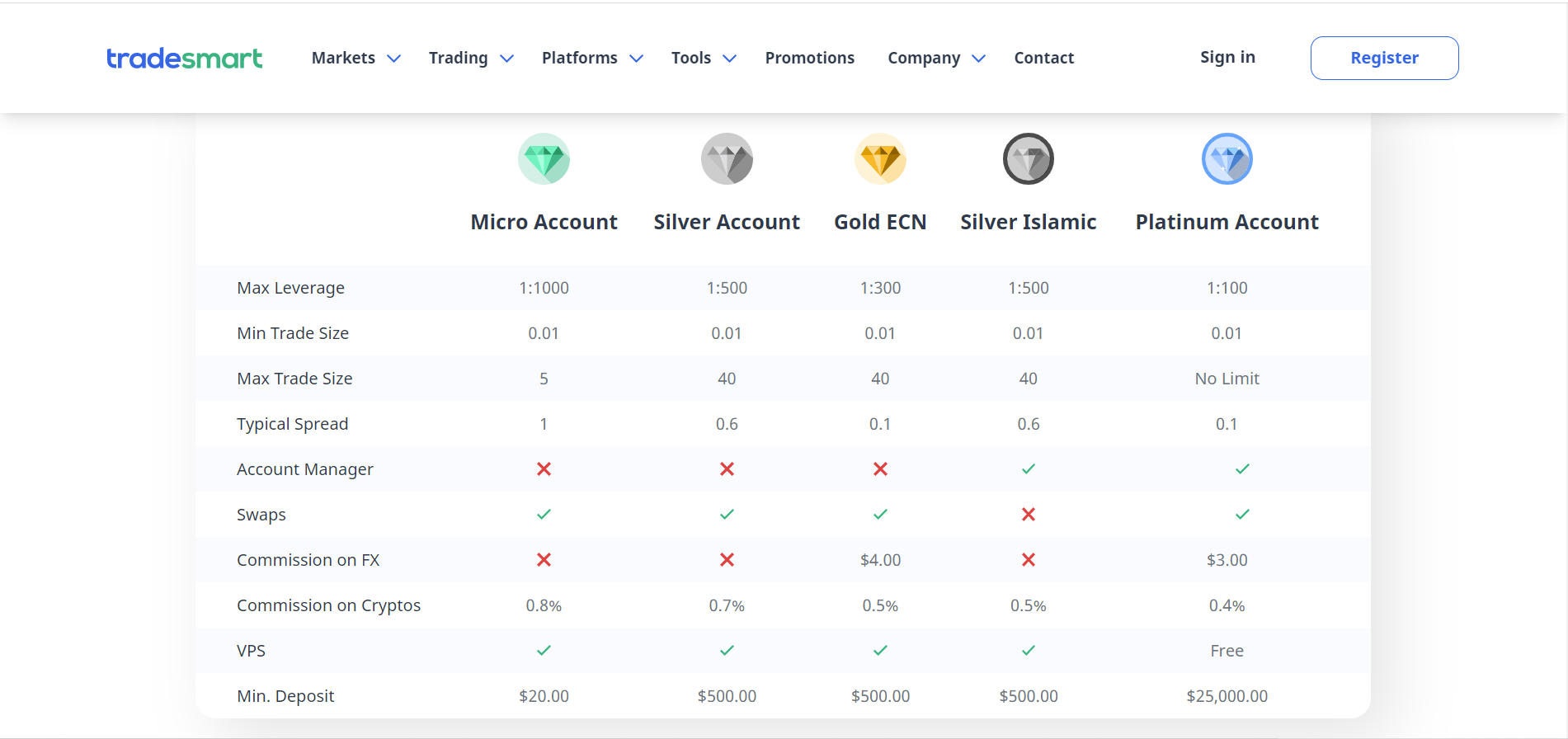 Tradesmart is offering tremendous possibilities when it comes to account types here. You have the opportunity to take advantage of five different offers on this platform including Micro, Silver, Gold, Silver Islamic, and Platinum accounts. They all include pretty extensive qualities and Tradesmart promises every newcomer that they can start off the trading journey on the right foot here. But it is still unclear whether it is true or not since experienced people will easily deduce that something is wrong in this section. 
For instance, a Micro account allows you to deposit as low as 20$. Seems pretty attractive, right? Well, we have to note that the majority of legit trading platforms include no less than 200$ as the minimum possible deposit. What's more, the maximum leverage of this account type is 1:1000 which seems ridiculous considering the fact that you can deposit such a minimum amount. The most lucrative proposals lie obviously in the Platinum account that allows the most experienced traders to enjoy top-class services, low commissions, super-tight spreads, and so forth. But, you need to deposit a minimum of 25.000$ for this one. Are you willing to risk such a huge amount of money on a platform that has too many question marks? Well, we certainly don't recommend doing so!
Promotions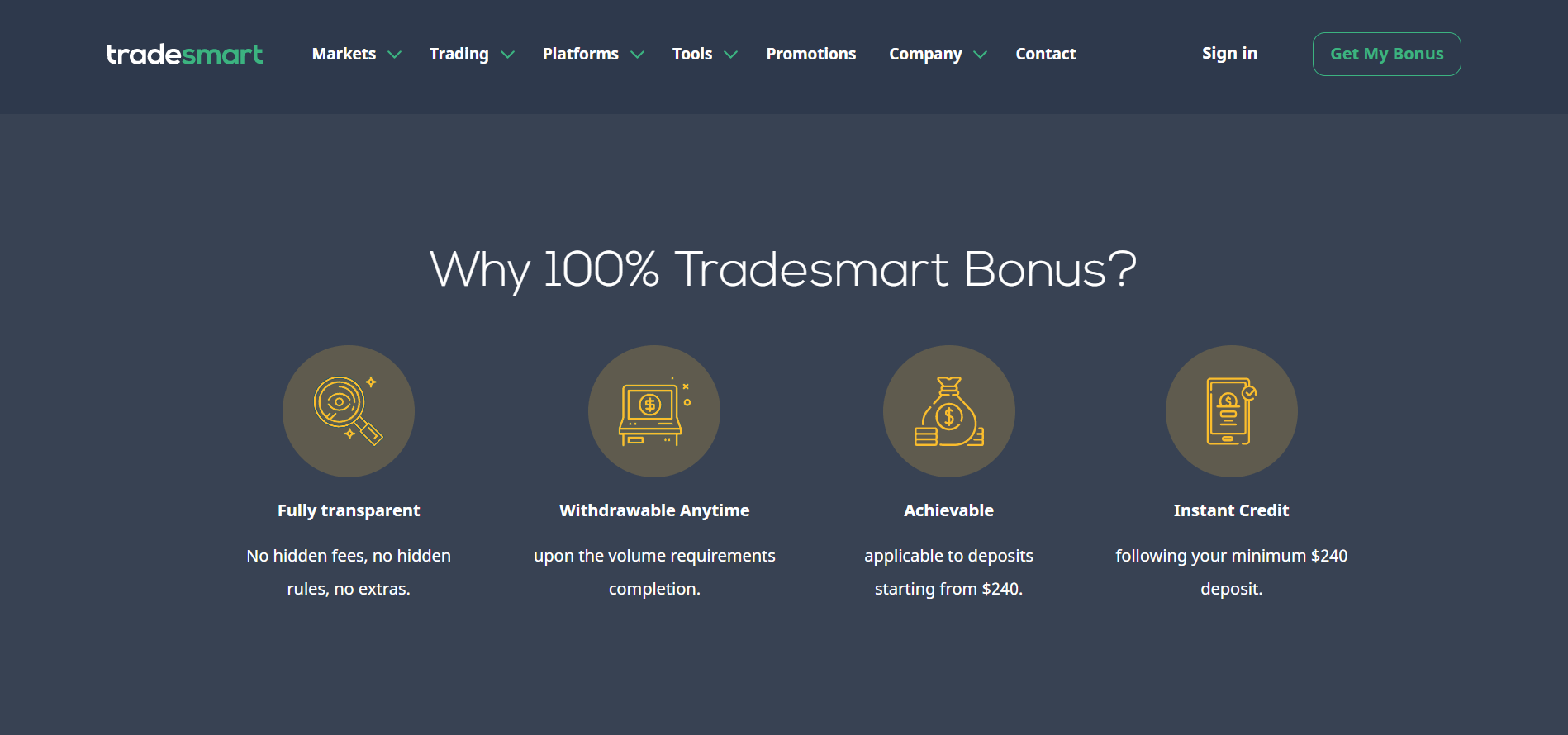 The section about promotions on this website further enhances our doubts since we are reading that you will be greeted by a 100% welcome bonus as soon as you sign up here. However, you are required to deposit a minimum of 240$ in order to take advantage of this offering and they claim to raise your funds up to 20.000$. It is pretty clear that this proposal sounds too good to be true, so we think that Tradesmart will take your money and will not give you anything in return. Hence, you should not be impressed and deceived by such a lucrative sentence! 
What's more, this promotion includes way too appealing conditions as you don't need to pay any fees, there are no other rules or extras, the bonus will be credited immediately in a split second and you have a chance to withdraw it anytime you wish. All these sentences seem pretty fascinating to be true since there are a lot more conditions required in order to obtain such a massive bonus. Hence, now is the time when you have to remind yourself that everything that shines is not gold, so think very carefully before you opt for this proposal!
Partnership Program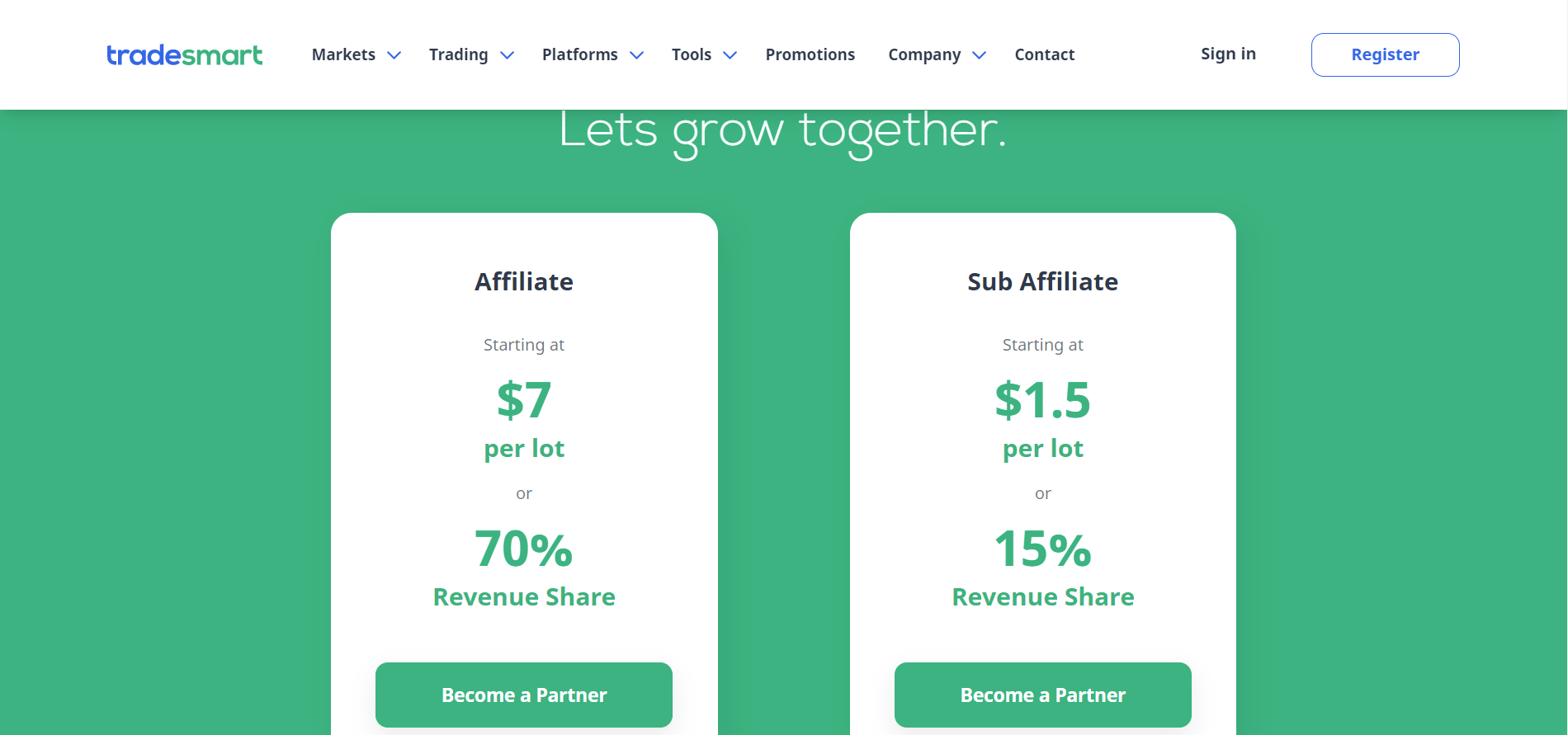 Tradesmart also features highly attractive proposals in terms of the partnership program. As soon as you open this department, you will read that by partnering with this platform you have a chance to revolutionize the trading world. Seem a pretty convincing sentence, right? We have to admit that the owners of this platform are well aware of the marketing tricks and psychological factors that make customers engaged in their services. That's why they are using such persuasive words. 
This platform includes two types of partnership programs – referral and regional programs. As we read in this segment, Tradesmart is partnered with several countries as regional representatives but we find it hard to believe since apart from English there are no other languages included on the website. When it comes to the referral program, you have the opportunity to get eligible for various benefits by sharing this platform everywhere. This program offers $7 per lot or 70% revenue share Starting from 15% to $1.5 per lot. Do you really think that such a kind of offering is legit when you are only required to share the platform with your friends? Well, in our opinion, Tradesmart is only trying to expand their popularity and they will not award you anything in return!
Deposits and Withdrawals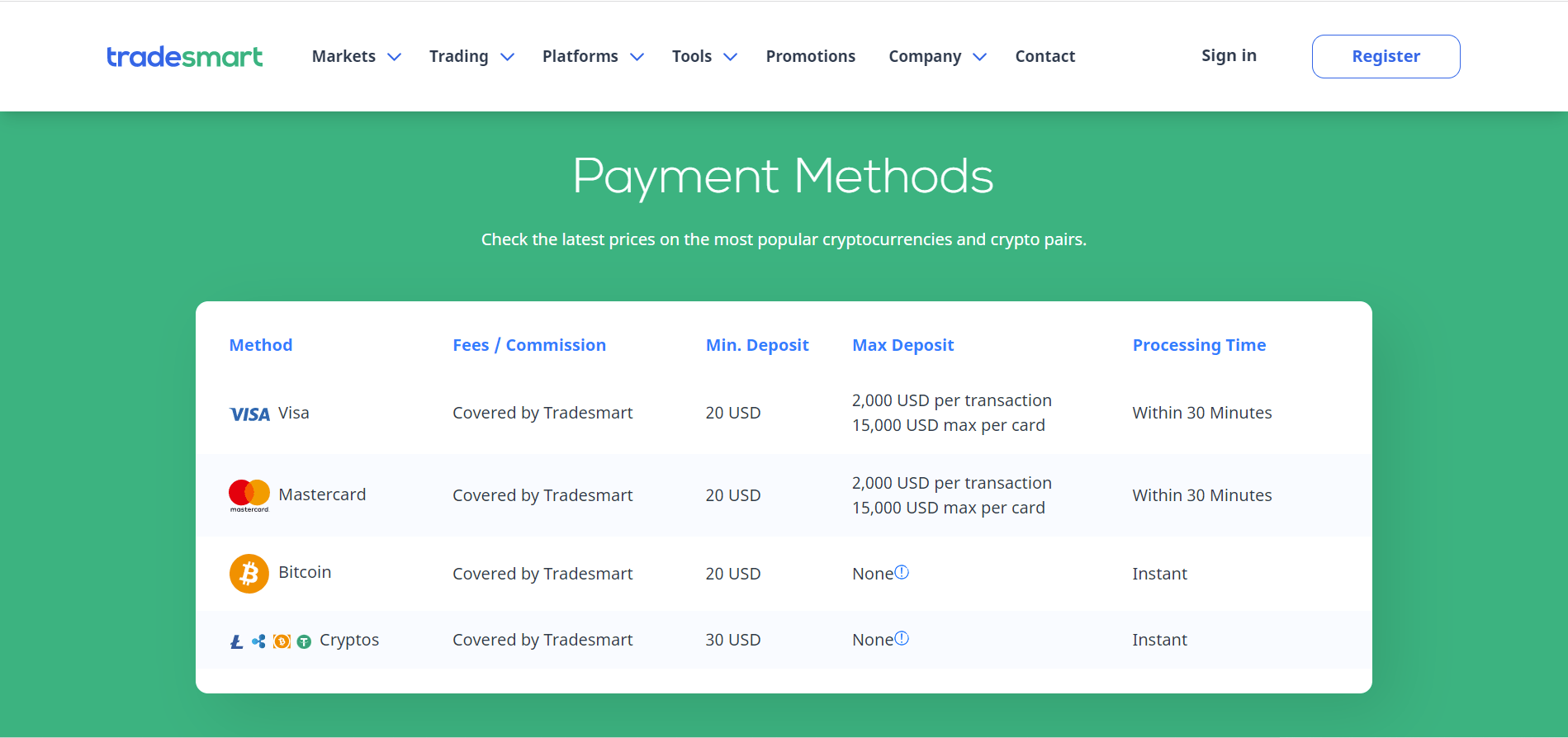 We have also encountered highly dubious information regarding deposits and withdrawals. First of all, we want to note that Tradesmart allows customers to carry out transactions via all kinds of currencies including cryptos. But there is nothing exceptional about this as the majority of brokers nowadays include cryptocurrencies as a form of payment. However, what makes us skeptical about this one is that Tradesmart is willing to cover all the fees and commissions for every type of transaction. This is also too good to be true, right? We have to say that even the best brokers don't offer such kind of possibility as you are required to pay fees and commission when processing payments. 
Moreover, as we have already said, the minimum possible deposit includes 20$ on this platform. This is an extremely low number considering the fact that most platforms start with 100$ minimum deposit and some of them even include as high as 200$. So, it is not really a wise decision to trust this one and hope that everything works. The chances of being deceived and losing all your deposited funds are very high, so you should really refrain from signing up on this platform! 
What's more, they say that your money will be protected maximally as they are partnered with top liquidity providers on the market starting from institutional to a retail liquidity pool. But, we have searched for a long time to find any information about their connection but to no avail, because they don't say the names of their partners. So, this is one more argument why we think that Tradesmart is trying to entice visitors by offering lavish opportunities, but in reality, you will certainly become a victim of fraud and manipulation there! 
Customer Support Team 
Another aspect we want to cover in this article includes the customer support team which is one of the most essential attributes of every successful broker. A vast number of newcomers in the trading world don't understand even the basic concepts of trading and they ask a lot of questions all the time. In order to provide thorough and helpful answers, it is necessary for every platform to include a high-class and professional team that will be available 24/7. 
What's more, it is also important to provide help via various resources such as live chat, emails, phone numbers, and so on. This way, customers will get answers easily and they will have a chance to solve all their issues quickly. However, when looking at this segment of the Tradesmart website, we have to say that we were highly disappointed. 
The platform does not include a live chat, so you are not able to get help immediately. The only available resources are some unverified emails and a phone number that does not even work as nobody answered when we tried to call it. Hence, this is a pretty obvious sign that Tradesmart is a scam broker who is trying to hide the identity of owners and you should absolutely avoid getting involved in this platform!
Can You Trust Tradesmart?
We want to conclude our article by saying that Tradesmart is not a legit broker since it does not include any kind of license from a trustworthy regulator. This is the single most essential attribute to look for when choosing a Forex broker since you are able to determine whether it is a scam or not. Moreover, we have found all sorts of dubious offerings on this platform that further increases our doubts. Every proposal here seems way too appealing to be true, so we would recommend every novice trader not to engage on this platform as there is a great risk of losing all of your money!