UproFX review: the ultimate truth about UproFX broker

The state of the contemporary online world makes it much easier to set up a company and communicate with potential clients. The internet also allows those companies to set up various features and sell them as credible offerings. Sure, many of them will actually be legit and trustworthy, however, there will be no shortage of fraudulent offerings.
Unfortunately – or fortunately, depending on how you look at it – the same is true in Forex and other markets. The proliferation of the internet made it incredibly easy to set up an online brokerage and make it appealing to the wider public. The sad part about this is that even the scam brokers can make their platform instantly more attractive.
It goes without saying how important it is to choose a legit brokerage with credible offerings. On the one hand, such brokers make your trading experience far safer and more exciting. On the other hand, though, there are scam brokers who can ruin the whole experience and even steal your money.
Articles like this UproFX review help people discover all the offerings of both legit and scam brokers and make a more well-informed decision. So, let's first take a brief look at the broker's offerings and then examine each of them more thoroughly.
UproFX reviews at a glance
UproFX is a new Forex broker in the Financial world. It has been connected to quite a lot of controversy over the few months of its existence. Multiple reviews coming out deeming that the UproFX scam is a real thing. We took it upon ourselves to carefully review the broker and see if the rumors were true.
In this UproFX review, we noticed that the broker is heavily focused on CFDs, offering multiple assets like currencies, commodities, and stocks as well. However, the most interesting aspects we found were not in the broker's trading instruments, but its features. The very first thing that jumps out right away is the fact that the broker doesn't have a license.
Even though UproFX is based in Estonia, it still managed to avoid the ESMA regulation that sets the overall financial climate in the EU. One immediate result of the absence of the license can be seen in the leverage offering: UproFX has a base 1:100 leverage that can also be increased to 1:500 if a trader requests it.
Another effect of having no license is a more flamboyant account base: instead of three mandatory accounts, UproFX offers four different accounts: Classic, Silver, Gold, and Premium. We'll talk about the differences and similarities between the accounts further down below.
As for the spreads, you'll find them both fixed and floating. This means that you can set your preferences for the bid/ask price differences.
UproFX scam – real or fake?
It is no surprise that many people jumped on the bandwagon and deemed the company a scam when they found out that it had no regulation in Estonia. We were quite inclined to feel the same, however, a certain aspect of UproFX gives it at least some kind of backbone. The fact is that the company is not "independent". It is a child company of Yield Enterprise Currency Software, which is a high authority company in Estonia.
The fact that this huge company would allow a subsidiary to tarnish its reputation is somewhat unlikely. Given the fact that UproFX is quite young still, it is understandable to why they may not feature a proper license from a local regulator. But that still does not mean that not having a license is Ok. We still have our suspicions about the broker.
At this point, it's still early to say if the UproFX scam is real or not. Let's dive deeper into the features and find out for ourselves.
Is it easy to find information on the website?
We were quite surprised to find out that the company doesn't seem to have issues disclosing most of the information to us. You can see how the registering process works, without registering, thanks to their "Get Started" guide. You can also find out everything about the terms of service and how you can personalize your trades.
However, we cannot say that it was simple to attain that information – it certainly wasn't like we could access leverage or other details in just one click. That's because the interface was stuffed with lots of complex visual data: saturated images, large icons, and very fancy fonts. While the art website would certainly be more spot-on with such decorations, the same design doesn't work for the broker. The UproFX clients will most probably need to get accustomed to the interface first and then find the preferred information.
The information disclosure as already mentioned is quite extensive. The transparency displayed by the company is something many other should learn from. Their KYC documentation and terms & conditions detail everything to the last word. The registration process is also very easy. Not too much personal information is required. All you will need to indicate is an email address and a phone number.
UproFX Leverage
As we have already mentioned in the first chapter of this review, UproFX manages to offer big leverage simply because it doesn't have the ESMA regulatory requirements. The broker steers clear of the standard 1:30 leverage rate in the currency CFD trading market and offers the base 1:100 leverage that can go as high as 1:500 if you choose more premium accounts, although it may cost you more. Since we are already on the topic, the minimum deposit we were able to see was EUR 250, which is the market standard for Forex brokers these days, therefore you won't see anything extraordinary here.
What we also said regarding this feature is that the large leverage has some very real drawbacks. Let's take a look at the example to make things more apparent: let's say you deposited 1,000 euros on your UproFX account. Using the 1:100 leverage, you now have the ability to open trades that are a hundred times larger – a currency CFD purchased for 100,000 euros.
What this means is that if your trade yields the profit, it'll also be one hundred times bigger than if you went for a 1,000-euro position. That is the reason why so many people get excited about big leverage ratios and choose brokers with such offerings. However, there's a big catch here: alongside increased profits, the prospective losses increase one hundredfold as well. So, if you were to lose 50 euros before the leverage, you'd ultimately lose 5,000 euros by using it.
That's why it is super important to tread lightly when you use leverage. Not only that, that is also the reason why the brokers – the credible ones – offer the most reasonable leverage ratios that don't go too over the top. By neglecting that apparent truth and offering the leverage as high as 1:500, the UproFX scam becomes much more realistic to us.
In terms of spreads, as already mentioned, UproFX offers 2 variations, although they are quite restricted to a small percentage of the traders. Only traders who are utilizing the Premium accounts (by paying more) are able to use the fixed spread feature, meaning they are able to more accurately predict the profits or losses of a specific trade. For all the other accounts the spreads are floating, meaning that, although hard to predict, it will in most cases prove to be quite useful.
UproFX Withdrawals & Deposits
As we already mentioned the minimum deposit on a Classic account is EUR 250. Thankfully there are no fees connected to these transactions whatsoever, so you have that front covered. But we cannot say that the payment methods are equally convenient. Currently, there are two major and one additional transaction method on UproFX: credit/debit cards, bank wire, and the Skrill e-wallet.
First, let's examine the existing conditions and then cover the general picture as to why those platforms aren't exactly fun to use. In terms of deposits, there aren't as many downsides to the credit card/bank wire/Skrill payments. The transactions happen instantly but there's a certain limitation as to how much you can actually deposit to the account.
The limitations become much more apparent in the UproFX withdrawals. If you want to take your hard-earned profit, you first have to file the withdrawal application and wait for the confirmation. This process can take several days which, as you can imagine, is very uncomfortable for any trader.
So, it's pretty apparent why the above-mentioned payment methods are not very beneficial to your trades. In general, traditional banking methods have been around for a very long time and have lost their innovative appeal. Besides, the hacker community has become incredibly skilled in penetrating those platforms and stealing people's money.
The alternative to those platforms is more secure and convenient Bitcoin, Litecoin, PayPal, etc. If UproFX were to incorporate those platforms as well, they would've made transactions much more effective.
UproFX review of Account Types & Software
The account types, as noted earlier, come in different shapes and sizes. It's easy to say that UproFX is quite proud of this feature. This UproFX review is no different from any other, we take a very close look at how much choice the company offers its users. In this case, we are satisfied that there are 4 types of accounts to choose from.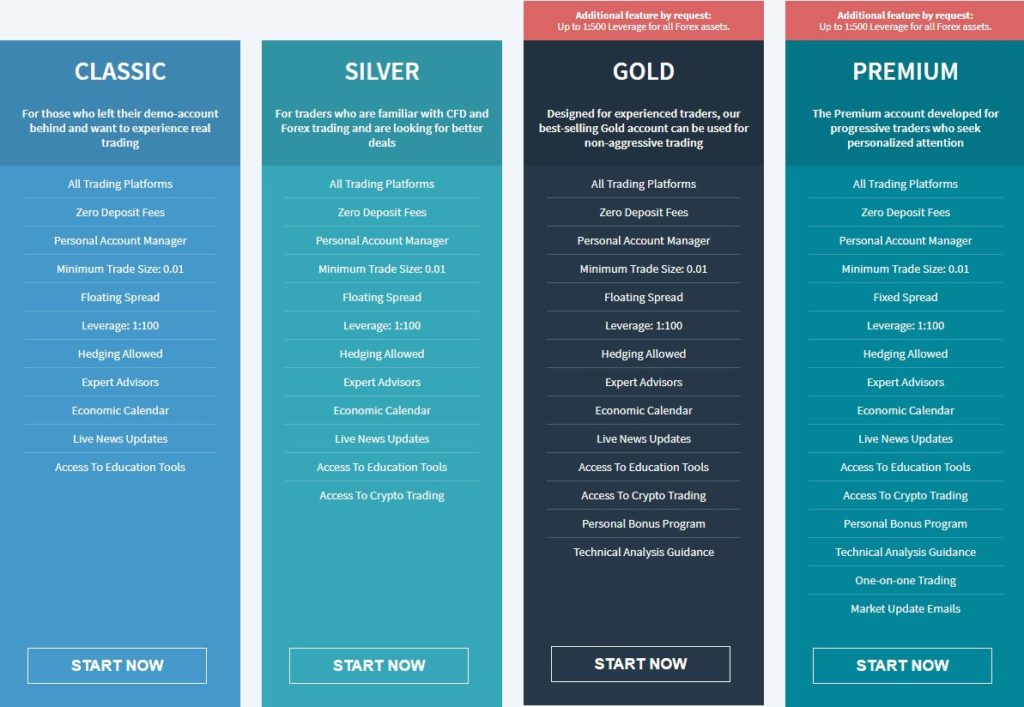 As already mentioned the Gold and Premium accounts bring with them various perks in terms of a possibility of 1:500 leverage and multiple trading tools. These tools include the opinions of experts and better signals. Classic and Silver users, however, will be able to enjoy leverage up to 1:100 as well as a low minimum deposit.
However, we're still not satisfied with the current separation level between those accounts. Sure, it's really great that people with lower accounts can use the majority of features that the more elite accounts have, but when it comes to enticing people to spend money on more expensive accounts, the broker has to do more than just the personal bonus program, one-on-one trading, or the market update emails. It's just a no-brainer to spend an extra penny on, say, the Premium account when you can get pretty much the same package with the Classic one.
Then we have trading software. Even in this case, UproFX embarks on a different road than its counterparts and offers not MT4/MT5 or cTrader, but a proprietary WebTrader software. In defense of the WebTrader, we have to admit that its interface looks modern and simplistic, and it doesn't need to be downloaded on the actual drive, it also has a big flaw:
The broker can easily put scams on the platform, steal people's money, and get away with it because no one's watching. In other platforms – be it MT4, MT5, or even cTrader – the consumer base is much larger. Besides, they can monitor the software and its internals because they create various scripts, tools, etc. for it. Therefore, we cannot help but suspect that UproFX went for its own WebTrader software so that it could avoid unwanted eyes in the depths of its platform.
Besides, the more variety there is to the trading platforms, the better for both the broker and its clients.
Is UproFX legit?
You may have noticed that in the beginning, the ultimate motive was to discover if UproFX can be trusted. In order to do so, we needed to simply avoid the fact that we were already aware of their lack of regulation. However, as much as we wanted to do that, we couldn't! Regulation is an inherent part of any credible brokerage; it restricts their conduct and makes them more responsible. But don't worry, we aren't making this the main subject of our final UproFX rating.
The trading terms and conditions also make us quite suspicious. While the varying spreads – both fixed and floating – are nothing too outrageous, advantageous even, the same cannot be said about the leverage. As already mentioned, UproFX offers the base 1:100 and a max of 1:500 leverage. This much leverage is both lucrative and very dangerous as it can increase the losses quite significantly, which means the broker is being very irresponsible offering it.
As for the account separation, trading software, and financial platforms, we have also found some pretty significant issues that also raise our suspicions. Not to go into a detailed explanation once again, we believe that the broker is either deliberately or absent-mindedly trying to undermine its clients' financial security.
For that and other reasons, we cannot recommend UproFX Forex broker to any of our readers.