VideForex Review – Is This a Trustworthy Forex Broker?

VideForex Broker is an online broker providing financial services to traders of all levels – beginners and experienced ones. As the website claims, there are more than 100 assets available and ready for you to trade, giving you the possibility to access their platform from any device, any time with the highest level of security.
Choosing an online Forex broker might not be an easy task, especially if you are a newcomer to this industry. There are a lot of fraudulent companies that might want to take advantage of your trustworthiness – it is important that you don't let them do that. That's why we decided to re-check all the facts stated by VideForex and in this article, we will evaluate if they really deserve your money and time.
We want to start our article with the most important indicator of trustworthiness – a license. You might wonder why it might be the main factor and the reason is pretty simple. You are going to trust the website with your financial assets, which means that you need proof that your money is in safe hands.
Such proof can be a decent license issued by a reputable financial regulatory body that will protect you as a customer if something inconvenient happens (e.g they steal your money, the company goes bankrupt, etc). Unfortunately, VideForex FX Brokerage does not mention much about regulations. The advertisements on their main webpage say that they are licensed, but there is no additional proof of it anywhere. This may be caused by two main reasons – either they don't care much about informing their customers, or they are unlicensed. Whichever is the case, this is already a big flag for us and for traders as well.
Customers of VideForex are restricted to maximum leverage of 1:100, however, there is not a specific piece of information about spreads, which is surprising. Spreads are something that is very important in the trading process and they can easily influence your decision-making process. Generally, not being transparent can be a sign of unattractive features, meaning that spreads might actually be very high and that's why the information about them is not displayed.
We were not able to find traces of MetaTrader 4 or MetaTrader 5, which are the most popular platforms used by the majority of reputable Forex brokers. Instead, VideForex offers a custom web platform to users, which is available for Web, Android, and iPhone devices. The application features CFD and options trading and direct deposit and withdrawals via APP. According to VideForex, using this platform, customers can have instant execution of trades, see live charts, and view their entire trading history.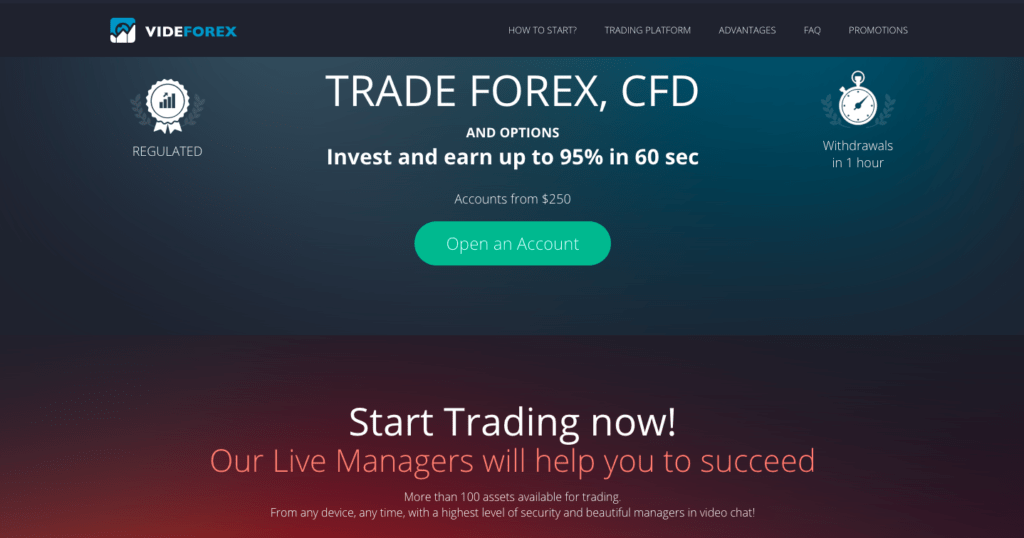 The minimum deposit amount is set to $250, meaning that customers will not be able to start trading until they fund their account with at least 250$. If you decide to sign up for VideForex, you can choose from 3 different types of accounts including Bronze, Silver, and Gold. Each of them comes with its own specifications and we will further review it later in this article. Assets offered by VideForex include cryptos, Forex, stocks, and CFD. The main webpage offers rewards from the first second of visiting it. There are multiple bonuses and promotional offers available on the broker including referrals, giveaways, contests, etc.
The presence of good customer service is another indicator of quality. Seems like VideForex has put all its effort into having good customer support as they offer a live video chat option which is not very common for such brokers. In order to have access to this function, you need to be registered on the website. It is also possible to contact the support team via phone numbers available in multiple languages or via the online email form.
Is VideForex Legit?
No, VideForex is not a legit Forex company, as we could not find any information about financial jurisdictions that regulate it. The website does not say much, the only thing we discovered is that VideForex is owned by Trust Company Complex, which is registered in the Marshall Islands. The Marshall Islands is an offshore zone, where there are no financial regulatory bodies available for Forex brokers. Generally, offshore zones are home to fraudulent Forex companies. This leads us to believe that trusting VideForex with your money might not be the best idea, as in the case of a scam, the company can get out of the picture easily, and you will be the one facing negative consequences. We advise you to check the legitimacy of brokers until you decide to choose them as your trading destination.
VideForex Review – Trading Features
In order for you to find out if it is still worth it to trust this broker, we decided to review some important trading features that are important while trading with the online financial website. Let's take a look at each of them, so you do not feel like you are missing out on something.
Spreads & Leverage
As we already mentioned earlier in this VideForex Review, the customers of this broker are restricted to leverage up to 1:100. This might look good for beginners, as the low ratio prevents you from losing high amounts of money. Experienced traders might not be very fond of it, as low leverage does not give out the possibility to land big profits and is designed for low-risk lovers. The information about spreads is unknown on the website, however, after digging out we discovered that spreads float somewhere between 3 and 5 pips which is very high compared to the industry's average and increases the price of trading. The majority of reputable brokers like to keep their spreads as low as 0.1 pips, so you can decide yourself if this website is worth it.
Account Types
There are 3 types of accounts available on VideForex – Bronze, Silver, and Gold. They differ from each other, but it is important to note that all of them are supported by 24/7 live video chat, you can get withdrawals in 1 hour, and all of them have bonuses included. Silver and Gold come with the first 3 risk-free trades and master class (web session).
The website includes a demo account option available and in order to receive it, customers need to contact customer support service and get the credentials. Generally, a demo account is a great possibility for you to test out their services for free without actually risking any of your financial assets. Using a demo also lets you practice strategies that you might use in the future. The disadvantage is that for now, the demo is only available for verified accounts that make deposits. This is quite strange, as the whole purpose of demo accounts is to let newcomers test your broker – if it is only available to existing customers, then what is the point? It is also important to note that the majority of FX Brokers have this option available for free for every kind of user.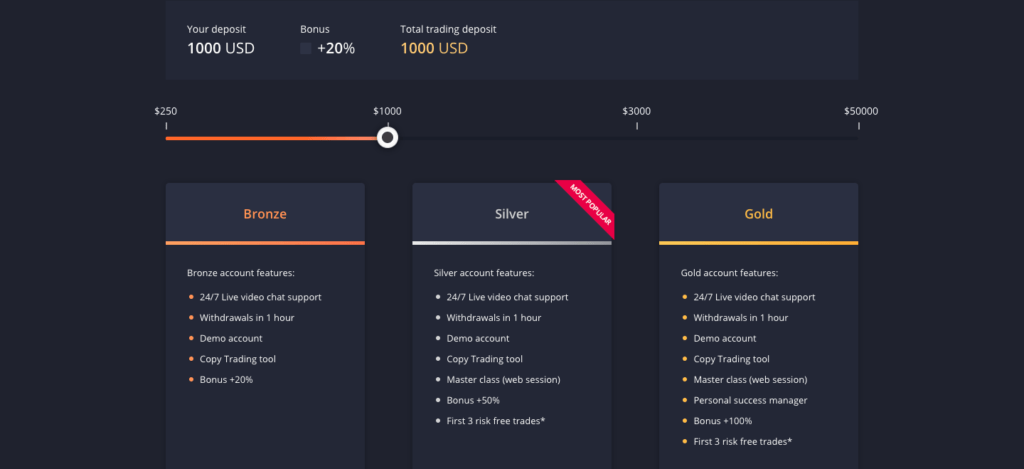 You can start your account in a matter of minutes at VideForex. All you have to do is register, get a gift, then fund your trading account and start earning – this is not something much different from all the other Forex brokers that we are familiar with, except for the gift part.
Minimum Deposit
As we already said, the minimum deposit amount is $250, which is not very competitive. The industry's standard is somewhere between 50 and 100 USD, and it is even possible to find websites with much less amount. The minimum deposit requirement might also differ, depending on which type of account you decide to use. For instance, the Silver requires you to deposit $1000, while the Gold goes for $3000. We believe that this indicator is quite excessive, and you should consider it before choosing VideForex as your broker.
It is important to mention that there are multiple ways of making deposits and withdrawals on the website including both – crypto and fiat currencies. One can make deposits with Visa, Mastercard, Bitcoin, Ethereum, Litecoin, etc. Considering the fact that cryptos are gaining great popularity, the presence of them is actually good, making it possible for all kinds of traders to access trading platform with its desired payment method. The majority of funding methods do not have a fee, except for Visa and Mastercard (they have a 5% fee). When you decide to make withdrawals, it is important to note that the process might take up to an hour.
Bonuses
Bonuses are not very common for licensed forex brokers as the financial jurisdictions restrict brokers from attracting new customers through promo codes. Since VideForex is not licensed, they have various promotional offers available on their website, which is another proof that they are not regulated. By adding extra value to your current deposits, VideForex tries to easily track you into their system. Bonuses are included in all account types and once you sign up, you will be able to claim them.
VideForex Referral Program lets you invite friends to the broker and after that, you can get 20% of their deposits. If referred client deposited $1000, it means that you will get $200 as a commission. With giveaways, users are able to get a 100% trading bonus and win different prizes. We advise you to always read the terms and conditions bonuses come with, as they might not always be on the side of users (meaning that sometimes you can't withdraw money until you have deposited a certain amount, etc).
All in all, the trading features offered by VideForex do not look very attractive to us. The lack of information does not give customers the ability to evaluate everything at the first glance, however, the majority of indicators do not correlate with the industry's standard. For instance, minimum deposits along with spreads are very high. Leverage looks good but only for low-risk traders. The presence of bonuses might be a plus but this indicates the fact that the company is unregulated, which is not very good news.
VideForex – Final Verdict
VideForex was not able to gain our approval from the moment we found out that they are based offshore and are not authorized to provide financial services to customers. It is true that the website might have some good features, for instance, good and innovative customer service, but this alone is not enough for us to recommend VideForex to our readers.
Considering the fact that there are a lot of other reputable Forex broker companies available on the market, we advise you to spend your time on research, read reviews, compare different brokers to each other, and choose the one that suits your interests best.
FAQ on VideForex