VIPTRADE review – A trustworthy brokerage firm

VIPTRADE is a forex broker firm that was created in the year 2016. It's a Georgian-based firm that offers fast trading platforms and is regulated by multiple organizations. to be more specific the VIPTRADE Forex Broker is licensed in Georgia, Kazakhstan, and Saint Vincent and the Grenadines. This is an international company so the fact that they have in total eight branches all over the world is impeccable and not surprising. The maximum amount of leverage available for both major and minor Forex pairs is 1:500. This is an interesting amount to provide as it can be very beneficial if the trader has a great trading strategy to go along with it. there are many other trading instruments on the site of the broker other than currency pairs to start trading with including CFD Indexes, CFD Metals, CFD Shares, CFD Commodities, CFD Cryptocurrencies. deep liquidity and ultra-fast execution rates are what the broker is known for in the industry.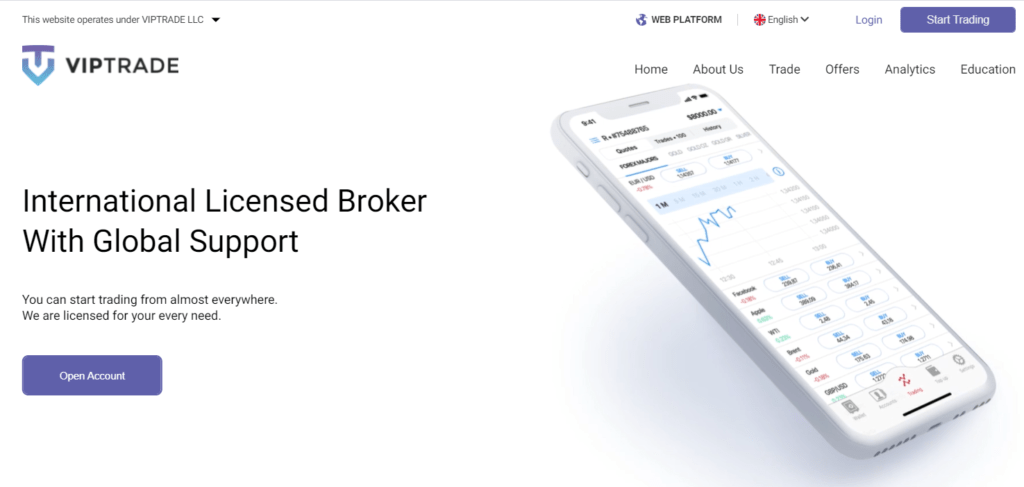 The Legal Measures of the VIPTRADE Forex Broker
The broker was established a few years ago, to be more specific in 2016. In a small amount of time, they have managed to get not only multiple qualifications but additionally a great reputation among the traders as they have already garnered thousands of traders online.
Georgia is one of the countries of registration of the brokerage firm. as we have mentioned before this is an international company with 8 branches and multiple regulatory bodies monitoring them. In Georgia, this task is taken by the Bank of Georgia, one of the most well-known and influential financial organizations in the south Caucasus region. Additionally, it's clearly remarked on the site that the firm possesses two more qualifications from very distinctive regulatory bodies from Kazakhstan and Saint Vincent and the Grenadines which is a great thing to have.
According to our VIPTRADER review, as for the security of one's data and funds, there are quite a few measures in place to help the users of the broker's website feel secure in their trading experience.  One can take advantage of the negative balance protection and the segregation of the funds. The site itself uses SSL encryption and a two-factor authentification system for all of its account users. no personal information will ever be disclosed with a third party according to the terms and agreements of the broker which is available on the site.
Trading accounts
The forex broker is very innovative in regards to the way they structure their accounts, even the base terminology is more alluring and straightforward. There are five different VIPTRADE FX Brokerage account types or as the firm refers to it five packages that encompass distinctive features and products of the firm. It's noteworthy to mention the fact that even the smallest available package has many advantageous features. There are five account types/Packages available on the site and these are Package S, Package  M, Package L, Package  XL, and Package XXL.
Package S users have access to some of the most defying features of the broker like Analytics, Basic educational material to study with, Trading strategy based on divergence, and one consultation per month with an Analyst. the minimum depositing amount for this package varies between $250 and $1,000. Package M is very similar to the already mentioned VIPTRADE Forex Broker account type, additionally, it has two other features like the trader simulator and the ability to connect to a standard. There's also a difference between the minimum deposit amount, the M package requires deposits between $1,000 and $3,000.

The same could be said about the L package as well, it has all the previously mentioned features, the only difference is the minimum amount the broker requires for this account type which is between $3,000 and $5,000. additionally, it has access to the first level of study.
Package XL has access to all the previously discussed features, the minimum depositing amount for this account type varies from $5,000 and $10,000. Another additional and key difference ar the fact that instead of one consultation with an analyst one gets two with this VIPTRADE FX Brokerage account type, and one also gets access to the second level of study. distinctive features of this package are weekly closed workshops with a leading analyst, and the ability to connect to a robot. The last available account type is Package XXL which has all the previously discussed features of the XL package, however, it has two features that are distinctive and no other account type has it, which are individual trading sessions and the ability to open deals by phone through a dealer. The minimum depositing requirement for Package XXL is $10,000 or more.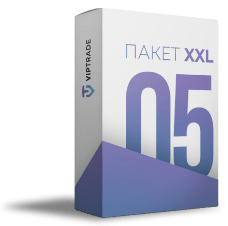 Each one of the VIPTRADE's active trading accounts has its unique set of terms and conditions, which are designed for different types of traders based on their specific demands, investment objectives, and financial situation.
They provide demo VIPTRADE Forex Broker accounts which a great method to try out different tactics and practice in real-world market conditions. These demo accounts are funded with virtual money, allowing you to practice your talents without risking any of your own money.
Trading and non-trading fees
In this section of the review, we will take a close look at tall the commission fees that are displayed on the broker's page. VIPTRADE does not charge any commission on any instruments on MT5 and Spread betting accounts. Only the spread is charged, plus any relevant swap charges and a modest mark-up by the broker.
As far as account commissions go, one's limit on the available leverage is dependent on the very jurisdiction they are operating their trades. Swap charges on forex are dependent on the type of position the trader wants to make, whether it's long or short.  And the commission charged by VIPTRADE FX Brokerage on which the position is held. Clients can make a profit or lose money on a swap, resulting in a positive or negative rollover.
We have discussed trading-related fees, however, there are fees that are not related to trading such as inactivity fees. Does VIPTRADE charge an inactivity fee? they actually don't have such a thing, which is yet another advantage of the broker firm.
Trading Assets and their conditions
There are multiple Trading Assets available on the  VIPTRADE broker site. each of them has their conditions. The leverage is not the same for each trading instrument. The following is a list of available trading assets that the firm provides
Forex Pairs
Indexes
Metals
Shares
Commodities
Cryptocurrencies
Trading with Forex pairs has never been easy as it is with a VIPTRADE Forex broker. The leverage ratio for both major and minor pairs is 1:500 which is the highest amount the broker can provide to its consumers.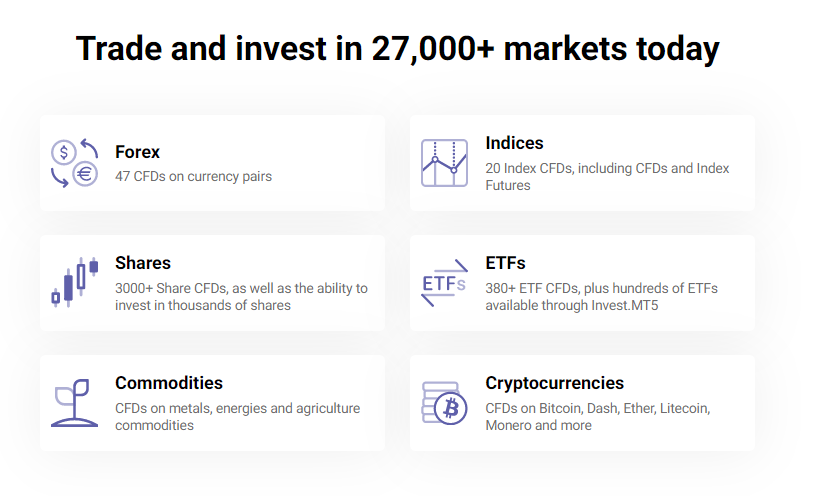 Indices are a trading instrument that has a high leverage ratio on the site as well. specifically, the Spot Indices Major has the highest of all among the indices and is 1:500,  Minor Spot Indices have a 1:100  ratio, and  Major and minor  Future Indices have the leverage ratio of  1:50. For all energy spots and futures, the leverage ratio is 1:100. Commodities futures have a leverage ratio of 1:100. Shares from the United States, the United Kingdom, France, and Germany have a leverage ratio of 1:25. and last but not least the leverage for cryptocurrencies are 1:10.
VIPTRADE review – Trading Platforms
The Broker provides its consumers with the MetaTrader5 software. This is very much an industry standard at this point and has many befits that other platforms lack.  This is the only trading platform that VIPTRADE provides to its consumers. In this section of the review, we will be discussing the features of the VIPTRADE platform in great detail.
This platform has built-in analytical resources such as tables, graphs, indicators. The accessibility of the platform is not an issue as it is available for desktop and mobile in both IOS and window operating systems.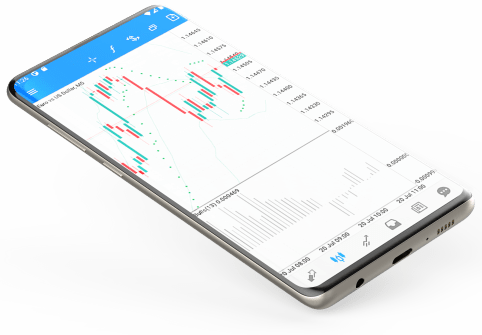 MT5 is the most widely used forex trading platform among retail investors. Brokers pay Meta Trader roughly 700 GBP each month to label their software, which is a perfectly useful and compatible device on its own. Additionally, connect the interface to one of their live servers of the VIPTRADE FX brokerage site.
MT5 provides users with a wide range of sophisticated and useful trading instruments and tools. A technical analysis tool, which is quite valuable in the foreign currency market, is also included in the application. Trading robots and trading signals are both used in MetaTrader 5. Furthermore, it provides users with access to not only a desktop version of the application but also a mobile version, allowing anyone with any device to instantly access the MT5.
Also, the mql5 language makes it quite simple to develop numerous add-ons such as indicators, templates, and expert advisors. This allows traders to carry out pre-programmed instructions, such as buying the pound against the dollar if the SMA 50 falls below 200, and so on.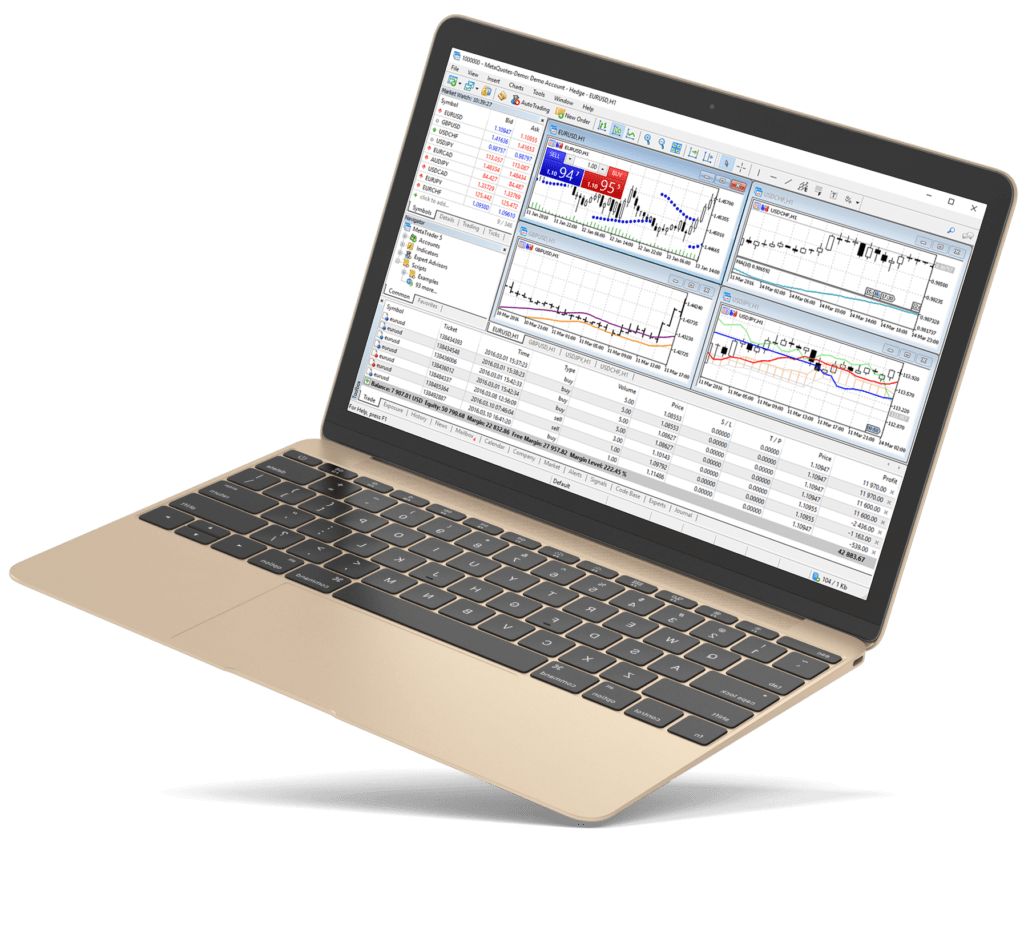 Deposit and withdrawals
The lowest minimum deposit amount on the site is $250, it's the minimum requirement for the "Package S" VIPTRADE Forex broker account type. One can make initial deposits in multiple ways. There are four distinct categories of payments on the site which are bank transfers, card payment, cryptocurrency, and several other forms of payments as well that don't fit the already mentioned categories.
options that one can use for depositing using the bank transfer method are
Migom Bank
Global Net
JPMorganChace
There is no given minimum or maximum amount that one needs to meet. as for the commissions and fees of using this category of payment, it's 0.5%, and additional bank commissions separate from the broker. Other forms of payments including cryptocurrencies, card payments, and several other forms of payment which are e-wallets are commission and fee-free. The processing time for all of the payment options is up to three business days.
Card payment options are a very efficient form of payment in any industry, with  VIPTRADER FX brokerage one can specifically use the following  options for depositing
Alikassa
InterKassa
Capitalist
Any.Money
VIPTRADER offers both fiat and cryptocurrency depositing methods which is a very nice option to have as it further diversifies the payment system of the broker. the following five  digital coins are available for depositing
Litecoin
Bitcoin
Bitcoin Cash
Ethereum
Tether
In the digital age, there is no shortage of payment options, this is why the broker also offers other less known payment options as well to their consumers. The following titles are the companies that one can use to make deposits on the site
QIWI
WebMoney
Yandex Money
Educational Materials
The site stacked with educational material in a variety of formats including ebooks, blogs, and another form of written or in cases verbal content, the VIPTRADE Forex broker youtube account is filled with many videos explaining many aspects and features of the brokerage firm. the video and ebooks are about a variety of topics including trading strategies and indicators, cryptocurrencies, DAX30 trading, and trading psychology.
Customer support
The site has a lovely customer support team that operates 24/7. There are multiple ways to get in contact with the service provider team. the first and the fastest option is the live chat widget which is directly connected to the broker's Facebook page and is very easily accessible. VIPTRADE has great media visibility and has utilized the power of social media channels to its advantage.

Final Verdict
all in all, we would recommend VIPTRADE FX brokerage to our readers in a heartbeat as it is a broker that has many benefits. Its advantages far outweigh the disadvantages, which they practically don't even have. which is surprising and rare in the industry.
the broker provided a cutting-edge MT5 trading platform, that is acclaimed among the traders and in the industry. The fees on the site are relatively low and on occasion, there aren't any fees regarding certain criteria, There payment system on the site is very diverse and offers both crypto and fiat deposits. more than eight different asset types to trade with are at 0one;'s disposal with this broker alongside five different account types.
We recommend our readers to visit the broker site and start benefiting from their offers as the firm offers quite many advantages. it's multifunctional, efficient and the security measures on the site are top nitch much like the services and products they offer.