Waterman Capital Scam Review

Have you ever heard about Waterman Capital? In case you haven't, congratulations! It means that you haven't been scammed out of your money by the company yet.
In today's article we'll give you our honest opinion on why we think the broker is not to be trusted and we'll provide you with the practical advice on how to select a reliable financial partner.

Waterman Capital promises to provide you with various financial services. The list includes:
ECM Trading
ETF Trading
Options Trading
Retail Trading
Institutional Investing
Portfolio Management
Wealth Management
The list truly looks impressive and we tried to find out more about each. The results were unexpected. You can find grammatical errors in about any paragraph on the webpage. Would you entrust your investments to the company that makes so many mistakes? Apart from the mistakes, there are lots of stylistic errors and the text makes zero to no sense whatsoever.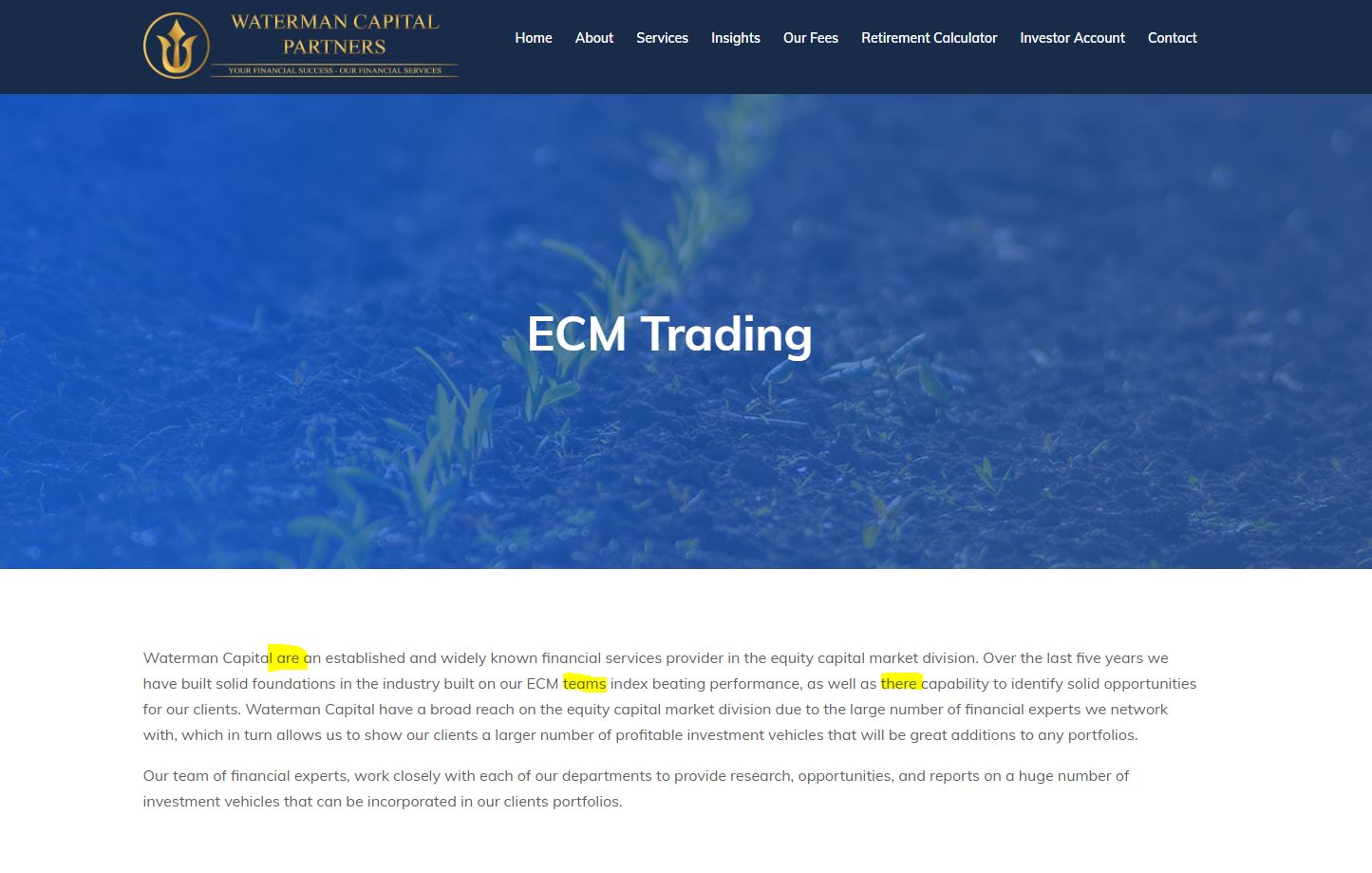 We tried to chat with the broker online, only to find out that the "send message" option doesn't work.
Don't worry about reachability issues. You can still send them an email or request a call back. They'll be happy to do so since Waterman Capital does a lot of unsolicited calls anyways. Which is another indication that the broker shouldn't be trusted.
Trustworthy financial institutions do not make unsolicited calls. They can not give unrealistic expectations to their potential clients. The reason behind this is the fact that well established brokers are constantly monitored by regulatory bodies. Which leads to our next complaint about Waterman Capital:
Waterman Capital is not regulated. And therefore should not be trusted. It's obvious that investors that deposit money on Waterman Capital accounts are not experienced in finances.
Generally the scam takes place over the phone. The proposal is tempting and people that have little to no experience or are elderly fall for the scam. Their webpage is not meant for close reviewing. It is made for making a fast first impression to get people to deposit while they're still on the phone. The page's design looks really good, but the content gives them away.
They know their target audience and provide retirement calculators with happy elder people in the background. What exactly makes people fall for this scam? Well, we need to increase our savings. It's no surprise that the older generations have substantial amounts of money set aside for their retirement. The problem is that inflation destroys the purchasing power of that wealth each year.
You can hear almost daily that someone has invested in company stocks or bought bitcoin and became a millionaire. Get rich quick myths are very real in the modern world.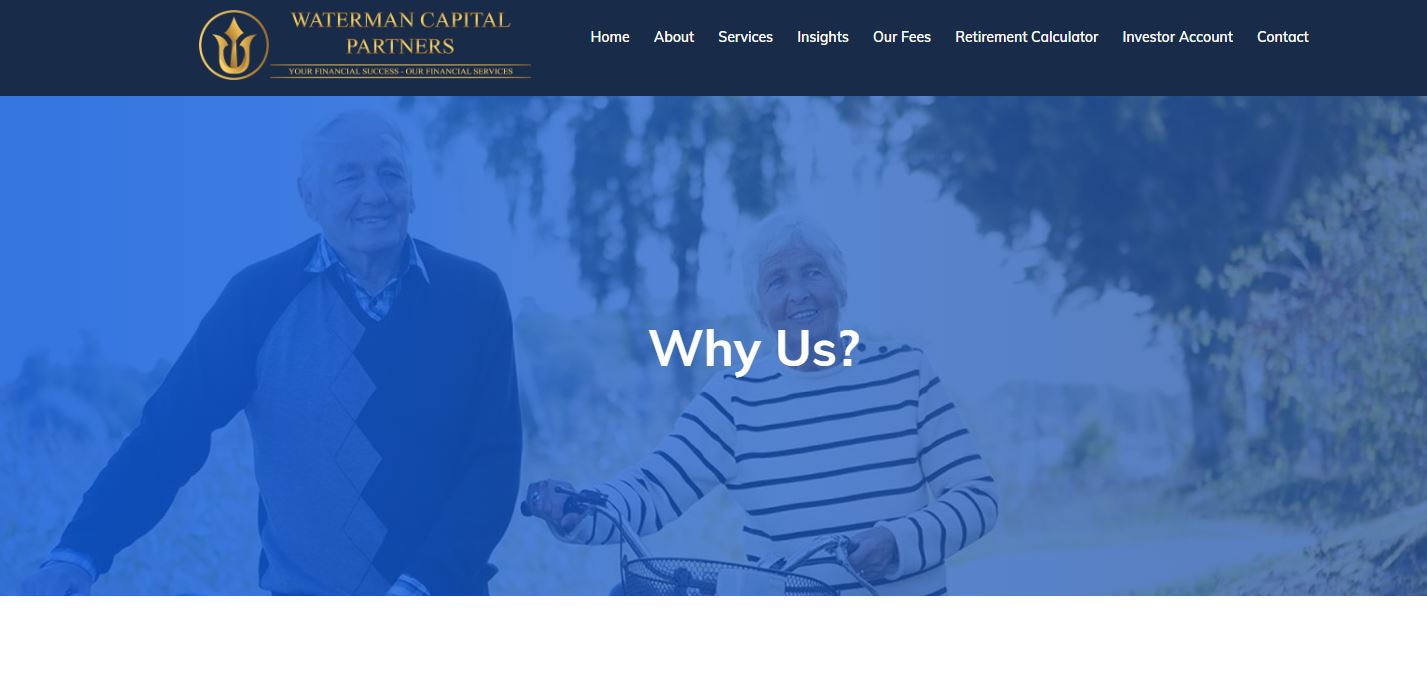 It's no surprise that most people want to be a part of something as trendy as investing. Even when they don't have any experience. In fact, the less experienced you are, the better for the Waterman Capital. The company offers Portfolio and Wealth management services to its clients. Essentially they propose you to use their platform and increase your wealth or if you don't know how to trade, give them the money and they'll make money for you. They do everything to make you deposit your savings to their account.
How to find a reliable broker to invest your money?
The first step is to get clear about how you want to invest. Do you want to make the investment decisions for yourself or do you want to entrust the money to a wealth management company?
Keep in mind that wealth management companies charge high commissions. On the other hand, you need quality financial knowledge to start investing on your own.
In addition, there are different approaches needed for active short term investing and passive long term one. For short term trading CFDs and Forex pairs are preferred. For the long term, investing in real, physical stocks, real estate and actual coins makes more sense.
The biggest indication of your broker's reliability is the level of regulations under which it operates. Strict regulations are designed to protect your interests.
There are various types of regulators. In general, you want your broker to be regulated by top tier financial institutions. The higher the number, the better.
Conclusion
To sum everything up, Waterman Capital is a scam. The company is not regulated. It's easy to spot the Grammar mistakes and senseless information after a close inspection. However, the scammers try to get investors to deposit money fast and the page is meant for making a good first impression, which it does thanks to a nice design.
When searching for a reliable broker, it's important to look for the one that is regulated by top tier regulatory bodies. The higher the number the better.
Scammers will always exist. All we can do is to spread the information and increase awareness. So that less people fall for them in the future.
FAQ's on Waterman Capital
Is Waterman Capital a scam?
Yes. The company has a good looking web page but the content is full of mistakes. The company is not regulated.
How does Waterman Capital scam people?
Waterman Capital makes unsolicited calls and tries to make investors deposit money to their investment account. The company promises good rewards and promises to manage money on investors behalf by offering portfolio and wealth management services.
What should I do if I have already made a deposit?
Request withdrawal from Waterman Capital. Record and save screenshots of every communication. Go to your closest police station and report the scam.
The company might ask you additional deposits to return your initial funds. Do not send them any additional money as there's a good chance of losing it.