Russia's economy contracted by 0.2% through the four quarters of 2016. In the first three-quarters, there was a consistent -0.4% growth in GDP, before it was offset somewhat by the fourth quarter's 0.3% growth. The country's economy has been in a recession for almost a decade, with declining GDP growth even in 2009 when oil prices were sky high.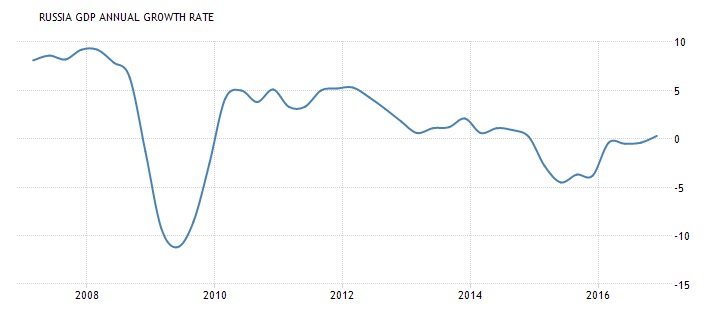 The continuous recession since 2008 was created by decreasing oil prices which dropped by 70% from highs around $147 per barrel. The Russian government tried to combat the economic downturn by devaluing the ruble and increase exports. Instead, this created higher inflation rates which led to decreased consumption and a downturn of most industries.
Soon thereafter, starting 2010, Russia's economy stabilized as oil prices picked up and GDP started to grow modestly. Rising oil prices were the strongest support to the country's economy, and it remained so until 2014. Russia annexed Crimea from Ukraine in march 2014, sparking outrage by world leaders. As a result, international sanctions were placed on Russia by the US and other countries.
These sanctions included travel bans and the freezing of foreign assets in the country. Investors lost faith in Russia's economy, forcing them to pull out, leading to a collapse of the ruble. In 2014, the ruble lost more than 50% of its value against major currencies. In retaliation, Russia itself imposed sanctions against US and EU nations, which restricted imports into Russia.
Following the sanctions, oil prices again began to drop, this time decreasing by more than 50%. Since oil contributes almost 50% of Russia's GDP, the decline of oil prices was the biggest blow to Russia's economy. After the recession in 2009, Russia had created a 'rainy day' fund of $87 billion to prevent financial crises due to oil prices. The latest reports show that these funds have been depleted to about $16.18 billion, which puts Russia's economy in a precarious position.
The latest growth in GDP was spurred by trade as increased by 0.3% from -3.5% in Q3 and exports which rose by 3.7% from 4.2% in Q3. Meanwhile, domestic consumption and investment contracted at a slower pace from -4.8% and -0.8% to -3.2% and -0.3% respectively. However, government spending continued to decrease by 0.5% as it had in the previous quarter.
Outlook of Russia's economy for 2017
Russia has been in focus since late last year following assertions that the country meddled with the US presidential elections. In regard to this, there has still been no concrete evidence, but some former US officials claim it to be true. These statements have got Americans worried about Russia's influence on the world, and it has had an impact on Russia's economy.
The latest repercussion comes in the form of a recent rejection by the US Department of Treasury for a waiver requested by Exxon Mobil. The oil company was seeking a waiver that would have allowed them to drill for oil in the Black Sea. Several US officials urged the president to decline the waver due to the possible interference with US elections.
This wasn't the first time the oil giant had requested such a waiver, as it had applied for it back in 2015. The Obama administration did not even act on the waiver, but Exxon was hoping Trump would reconsider it after saying he would try to ease US-Russia relations during his campaign. Therefore, it might mean the current sanctions on Russia will not be lifted any time soon as many had hoped, and Russia's economy might continue to suffer.
The ruble has been performing exceptionally well so far and is among the top three performing currencies with a 9% gain to the dollar. Oil prices have also propped up Russia's economy, making experts to believe a 2% GDP growth in 2017 is possible.
However, it may not become so as oil has once again dropped below $50 after a major selloff by hedge funds. There seems to be a surplus of oil in the US and Libya, which have contributed to the declining prices, so this sector of Russia's economy may be under threat.
At the moment, the outlook for Russia is bleak, and the direction will be determined when OPEC have their meeting on the 25th of May to discuss production cuts. Even then, it now looks like OPEC may not have a firm grip on the world's oil production, and the upcoming meeting may not even have an effect on the dampening outlook of Russia's economy.