InteractiveBrokers.com Review

It is understandable that you may get annoyed when people start advising you non-stop about how important it is to always look at reviews before you commit to something. It is pretty much everywhere, it is why you always look at comments and reviews when trying to shop on Amazon, you see what people had to say. This InteractiveBrokers review is pretty much the same. We took it upon ourselves to delve into this broker's terms and services, we experienced their services first hand, tried it out for ourselves and now would love to give that information to you so that you don't have to take unnecessary risks.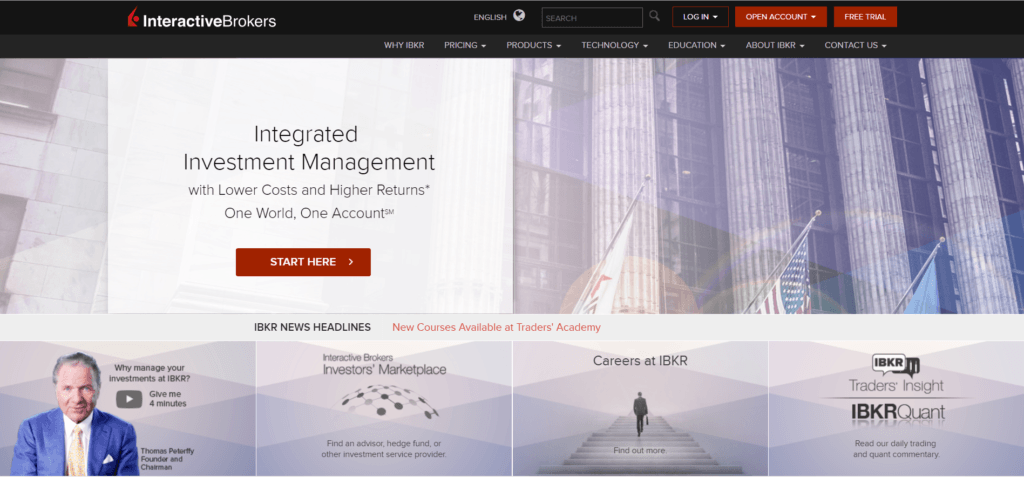 Can InteractiveBrokers be trusted?
After much research, we found out that this broker has one of the best services out there. However, we wanted to mention the fact that first impressions weren't that good. Because when we entered the website it looked pretty sloppy. There were way too many navigations and overall we thought that it wasn't really user-friendly. But just as the saying goes "Don't judge a book by its cover" InteractiveBrokers FX brokerage was a delight to trade with. Below we will list all of the features that help this broker stand out from the competition and truly be a leader in the industry in terms of service and customer support. You will not only see the qualities of this broker only but learn how to rate other brokers based on this one as well.
InteractiveBrokers Commission
The brokerage is considered to be a leader in the industry with its commission system. The reason behind this is that they understand their core customer base, they know that they are professional traders and not amateurs or beginners. Therefore a flexible commission system was created in order to accommodate both ends of the spectrum.
Equity Trades
Equity traders can have a breath of relief when they start trading on this platform because of the ridiculously low rates. Actually, they were so low that we thought that InteractiveBrokers scam was a reality, but we were soon proven wrong. When buying shares its important that the commission is as low as possible, because of how small changes can actually occur with shares. You may have to wait for more than a year for an at least 5% return of the investment, therefore you need to make sure that most of your investment is actual shares and not just commission fees. InteractiveBrokers understands this and knows the main trading volume of their client base, therefore their rates are between $.005 and $1 per share. If you're a very large volume trader than the rates might seem a bit too much. It's recommended to be in the hundreds anyways so, for that population InteractiveBrokers rating is great.
InteractiveBrokers Withdrawal
Withdrawal is one of the most important factors with brokers. As soon as you make some profit, you want to withdraw at least part of that. The system that InteractiveBrokers offers speaks volumes about its customer base. With them, you will be able to withdraw a maximum of $50,000 every day, without having to wait. However, there may be cases where withdrawals may require additional analysis and checking which may delay them for a bit, but you'll be kept informed should such a predicament arise. $100,000 will have you waiting for 5 business days, which is nothing new because of the bank's procedures. IntaractiveBrokers can be trusted in regards to their withdrawal system, they feature pretty much the best conditions there are on the market, even the biggest brokers require at least a day to process withdrawal request, but InteractiveBrokers is able to work a lot faster than that.
InteractiveBrokers Regulation & Licences

One of the features we love about this broker the most is that they make information about them, so easy to access and find. For example, when we want to review a broker, it is absolutely essential that we find information about their regulators, where they are located, how long they have been operating, maybe look at their team as well, but most of the times we don't get this luxury of transparency. With InteractiveBrokers fraud question out of the way, we can easily say that this type of transparency is something every broker should be doing.
Regulators
Since InteractiveBrokers is a US-based agency, they are licensed and regulated by the SEC and NFA (National Futures Association). They are also members of numerous other futures exchange committees, whose rules they always abide by and have been abiding by for the last 40 years. Yes, they have been on the market for 40 years and haven't lost a footing quite yet.
InteractiveBrokers Trading Assets
What we want every reader to know is that this is an old school brokerage. They've been around long enough to know what needs to be featured on their Trading Assets list and what doesn't. They know that focusing on the most important ones is what will bring profits to them and their customers. InteractiveBrokers now feature 14 trading assets on their platform, accommodating pretty much everyone on the market. However, we do need to note that they lack a pretty big asset like cryptocurrencies on their list, making the customer find other means to access it.
InteractiveBrokers Trading Platforms
The broker features quite a lot of trading platforms for their services. What we managed to deduct was that they are trying to shy away from the conventional trading platforms like MT4 or cTrader, opting for a more personalized trading style which their customers can use. Their main trading software is called TWS, which is basically MT4 on steroids, with a lot better design and arrays.
InteractiveBrokers WebTrader
Their Web-based platform is exactly the same as their desktop software. In case you prefer to trade on the web they still have your back, not only with this but also with their MobileTraders as well. All in all, you have quite a large variety to choose from.
InteractiveBrokers Review summary
In the end, we wanted to mention how impressed we were with this broker, they showed us nothing but the best service we have ever seen. Honestly, if every broker took an example from them, none of these reviews will be needed anymore. You can already see that we advise you start trading with this broker. However, it is needed to be said that for beginners this may a bit more of a rough ride compared to established or medium tier traders. In any case, we wish you good luck with your trading!