Voyager is a relatively new crypto exchange platform. because of the ever-evolving world we live in terms of technology, it always keeps us on the move, therefore we rely on developers and companies like Voyager to provide us all of the necessary applications that we may still use without having access to a computer.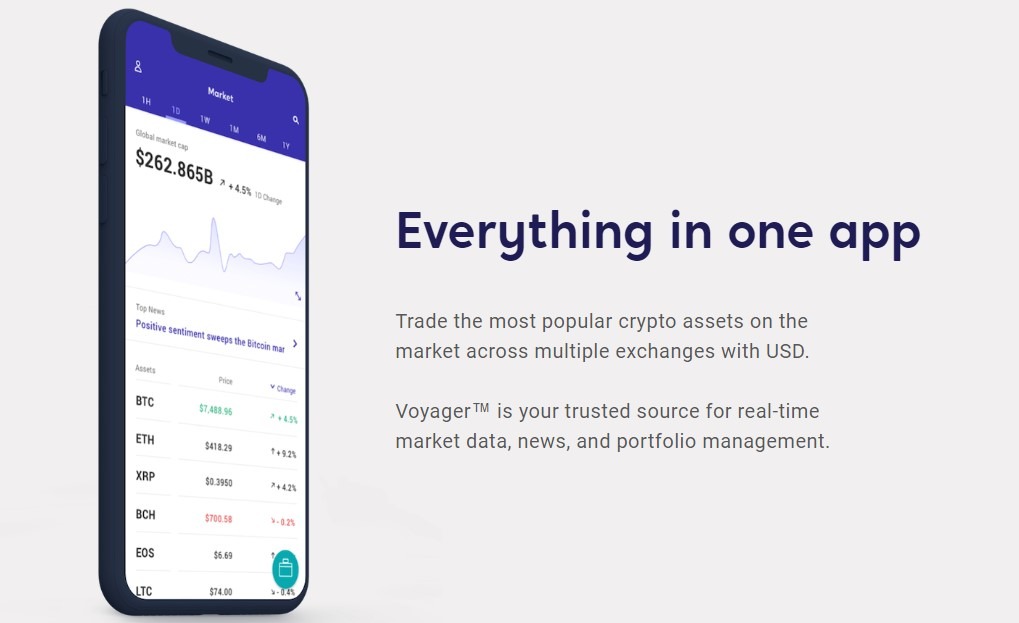 Voyager's platform is solely done a mobile device Although we tried to find a way to access it via desktop, only an app is currently available (Click to learn more). Although a crypto trading application is nothing new at this point, most of the biggest crypto exchanges have already gone down that path, however, the way Voyager distinguishes itself is just focusing on the mobile device completely.
Although this is not something that could indicate the superiority of the Voyager app compared to other crypto exchanges, it does, however, say that the app will receive more attention than any other. Now let's discuss what you can use the app for and what you can trade in this Voyager Institutional review. Yes, the full name of the company is Voyager Institutional.
Trading cryptos with Voyager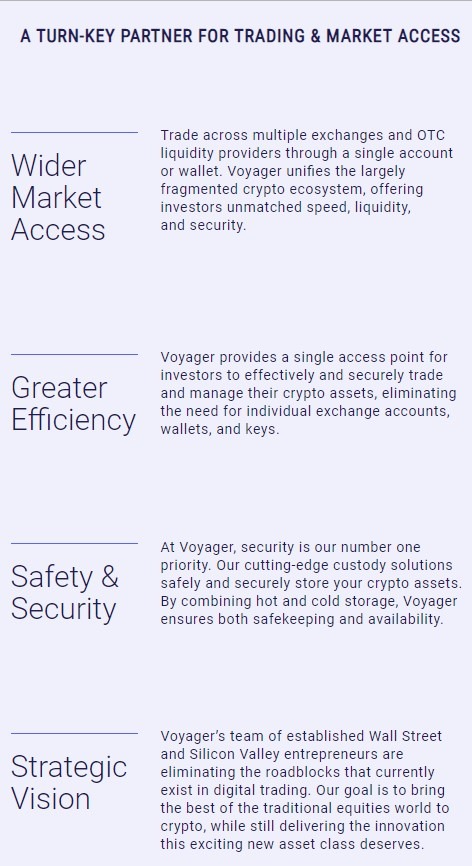 The app is quite simplified. The minimalistic layout helps it out a lot by providing amazing user experience, which is definitely considered to be the priority here. The company does seem to be US-based, which in some cases may indicate that they operate exclusively for US customers, however that may not be the case.
Judging by other Voyager Institutional reviews, some foreign customers were still able to access the Voyager app's beta version and test it out without any sort of hindrance.
Yes, the app is currently in open beta and features about 17 cryptocurrencies on the platform. The CEO has mentioned that in the future they will be looking to increase that amount to about 20, but in the meantime, when the final version will be launched, they will make sure to have at least 15. However, seeing how smoothly even the beta is working out it is worth to expect more than just 15 cryptos. Unfortunately, we weren't able to find exact information about the final version's release date on their website.
Is Voyager safe?
No matter how much a company may seem legit to you, it is always important to know that there is sufficient safety precautions made for them. Voyager has no problems disclosing the information about the type of security they use for their assets. At this moment in time, cryptos are still susceptible to multiple hack attacks. Voyager offers its institutional customers a custom security suite, which can be adjusted according to the company's needs.
Conclusion
In conclusion of the Voyager Institutional review, it's safe to say that the company is on the right track. Although the transparency needs to increase at least a little bit. Finding information on their website can be quite a hassle unless you contact them directly. A bit more space devoted to all of the intricacies would be a nice touch. However, the overall experience and feel of the platform were quite positive. If you are interested in seeing the platform yourself, click here to open an account and visit their website as well.