FXTM Review – A Great Forex Broker

FXTM Forex broker was created in the year 2011. As of now, the company has five qualifications which means that it is being monitored by multiple regulatory bodies. by now they have over a decade of experience in the industry and never shy away from change and embracing the new trends of the trading community.
As far as Trading platforms go, This broker has some of the best in the industry. Both MetaTrader4 and Metatrader5 are available to use for trading alongside a custom FXTM Trading app that has many different functions. The spreads on the site start as low as 0.0 pips.  The leverage ratio available on the broker's webpage is incredibly high at 1:2000.
FXTM  FX brokerage offers a wide range of trading instruments.  one can find major, minor, and exotic currency pairs alongside spot metals. It's noteworthy to mention the fact that one can start trading gold and silver with the help of it with the help of the custom FXTM   app, which is very multifunctional and easy to use. The broker also offers CFDs on 180 major corporate stocks. Obviously, commodities and indices are also one of the trading assets the firm provides as the FXTM broker is incredibly resourceful.
There are promotional offers on the site as well. These are the referral and loyalty programs. Both of them provide unique opportunities for the trader to make extra withdrawable cash. additionally, we have to mention the fact that the customer support on the FXTM Forex broker's site is incredible and top-notch. A qualified support specialist will be at one's service 24/7. There are multiple ways to get in contacts with them like an email, phone call, and a live chat widget which is available on the bottom right corner of the broker's site.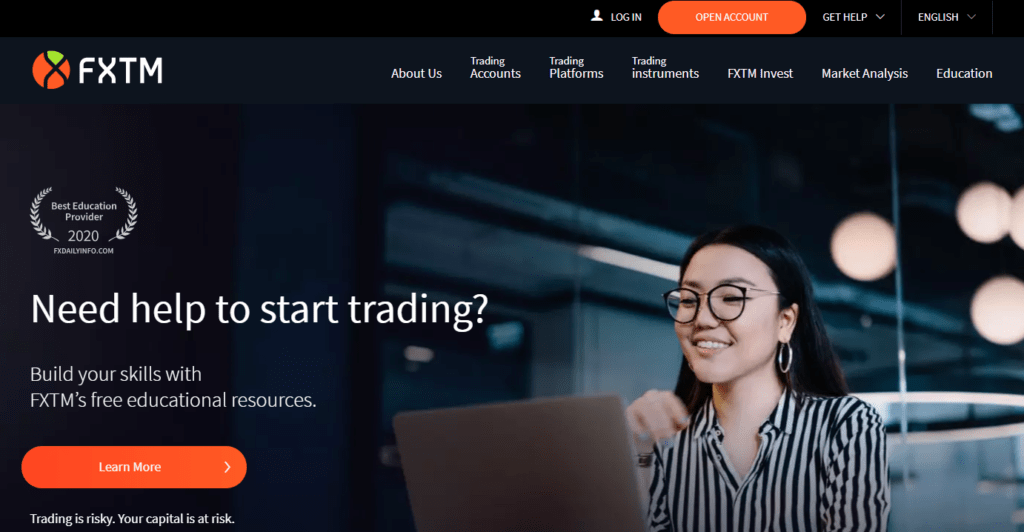 License and regulations – Is FXTM Legit?
This forex broker is fully regulated and has the markers of a safe and trustworthy brokerage firm. In this day and age, it's not enough to have just licenses, a broker also needs to prove its worth with the validity of its services and products. Which FXTM does so masterfully. FXTM  forex broker has multiple qualifications. In total there are five regulatory bodies that are monitoring the products and services of FXTM  FX brokerage.
FXTM is regulated by the Cyprus Securities and Exchange Commission.
The firm is also licensed by the Financial Sector Conduct Authority of South Africa.
The firm is also registered with the Financial Conduct Authority in the United Kingdom under the number 600475.
With license number 777911, FXTM is authorized and regulated by the Financial Conduct Authority.
The Financial Services Commission of the Republic of Mauritius also regulates the company.
Each of the mentioned regulatory bodies is very reputable and trustworthy in the industry. Usually, other broker firms don't have more than two licenses. In this regard, FXTM outshines its counterparts and easily gains the trust of all types of traders.

Trading Features
Forex broker is only as good as its services and products. The trading features of the FXTM Forex broker are astonishing, each of the trading tools has great advantages, the spreads are low and the leverage ratio is quite higher than the usual standard, This further emphasizes the fact that this broker is incredibly resourceful. There's a lot to talk about. One can place an endless number of orders and deposit a set minimum amount. It's worth noting that the step lot for all accounts is the same, at 0.01.
Account Types
FXTM's live trading accounts each have their own set of terms and conditions, which are tailored to different types of traders depending on their individual needs, investment ambitions, and financial situation. Regardless of your degree of knowledge or business preferences, we're confident you'll discover an account that suits you. FXTM FX brokerage  has three different account types which are the following
Micro
Advantage
Advantage Plus
This broker offers its accounts in both live and demo mode which are suitable for testing with different strategies and practicing under real market conditions. Demo mode accounts are funded with virtual money, allowing you to hone your talents without putting your personal money at risk.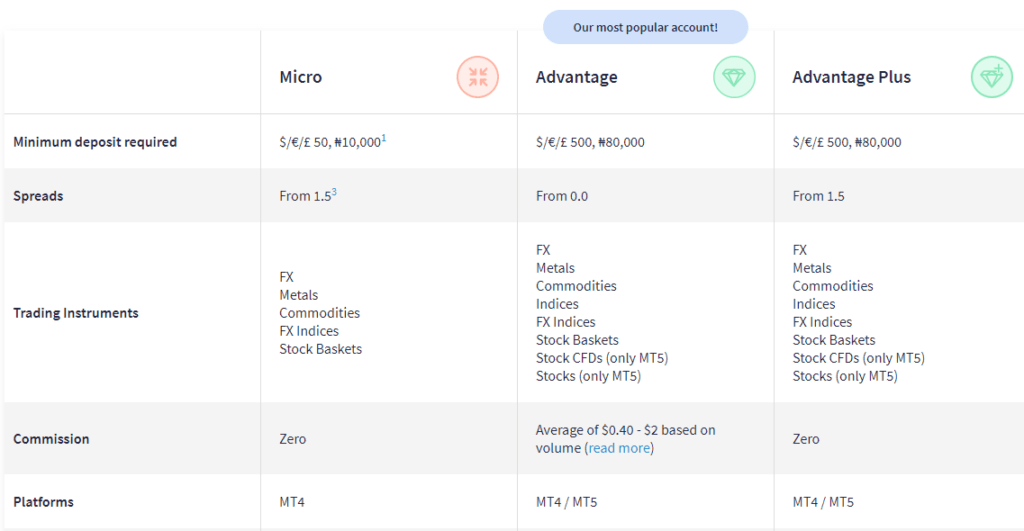 Advantage and Advantage Plus accounts have some similarities that we want to emphasize in our review. These account types have an 80 percent margin call and a 50 percent stop out. If we assess it in lots per trade system, the minimal volume is 0.01. Per trade, the maximum quantity of volume in lots is 100. There is no limit to the number of orders that can be placed. The maximum amount for pending orders is 300.  USD, GBP, EUR, and NGN are the currencies that can be used with these FXTM Forex broker accounts.
The Micro account has a 60 percent margin call and a 40 percent stop out. If we assess it in lots per trade system, the minimal volume is 0.01. Per trade, the maximum quantity of volume in lots is 10. The maximum number of orders that can be placed is 30. The maximum amount for pending orders is $100. USD, GBP, EUR, and NGN are the currencies that can be used with this account.
Leverage
When it comes to picking a broker, leverage is something that demands a lot of thought. Those who don't know how to utilize it effectively, know that it can either make or break one's trade. FXTM provides the same leverage ratio as its standard counterparts do, which is usually 1:500. However, depending on the sort of FXTM FX brokerage account you use, the leverage you use may differ. As 1:500 is not the highest leverage ratio that one can find on the broker's website. This is a big advantage the firm has over its competitors.
The leverage ratio for the Micro accounts is great and offers flexibility. For Forex pairs the leverage ratio can start from 1:3 to 1:1000. It noteworthy to mention the fact that Micro account leverages are fixed. As for metals, the maximum leverage ratio one can get for that specific trading instrument is 1:500.
Advantage and Advantage Plus account owners get the benefit of a floating spread ratio. They  have the ability to reap the benefits of the highest leverage ratio the FXTM Forex broker can provide for them which is 1:2000
Spreads
The difference between the bid and ask price is known as the spread. Floating spreads start at 0.0 pips with the FXTM Forex broker. The spreads will differ depending on the type of account you choose to conduct your trades. Spreads can start as low as 0 pips and as high as 1.5 pips.
Spreads on the site are in a floating position, meaning they can rise or fall based on market conditions at different times of the day. Spreads are an important trading tool for the users of the broker.
Micro and Advantage Plus account owners have low spreads, for them, the spread amount starts from 1.5 pips.  As for the Advantage account users, their spread amount is even lower, for them, the spreads start from 0.0 pips
Minimum Deposit
Minimum deposits are an important feature of FXTM FX brokerage. usually, brokerage firms use it to make each account distinctive by implementing certain financial requirements. regarding this notion, FXTM account minimum deposit requirements are very affordable for both high and low-end consumers.
The minimum depositing amount for the Micro account is $50
The minimum depositing amount required for an Advantage account is $500
The minimum depositing amount for the Advantage Plus account is also $500
By making the account types accessible for all types of consumers. FXTM has made its platform more friendly and has made its written content describing each feature of the firm very direct and transparent. this is the case for the minimum depositing amount as well.
Bonuses
The Broker has some promotional offers on the site. There is a loyalty and referral program available for the consumers of the website. There are no bonuses available at the moment, however, the promotional initiatives of FXTM forex broker constantly change over time, so one never knows what the broker has in store for the future.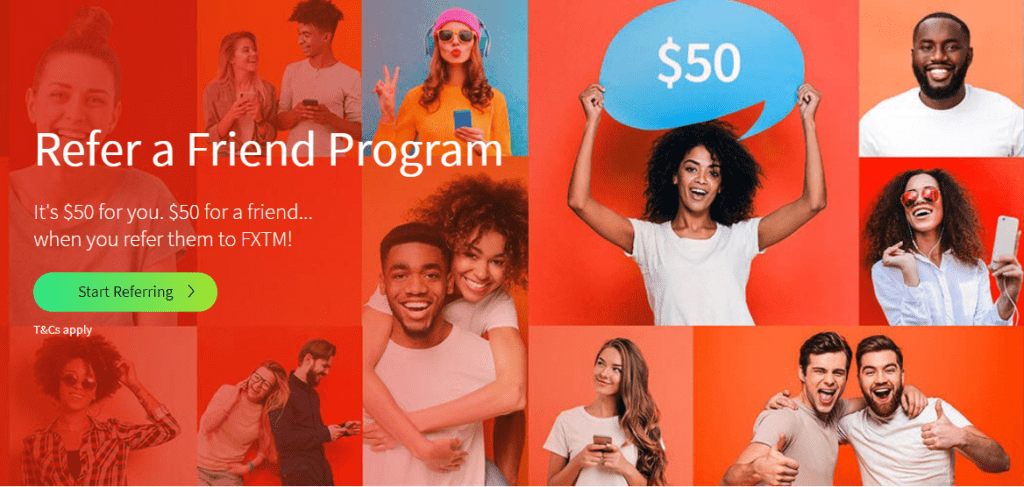 The referral program works very easily. one gets $50 by just recommending a peer to the FXTM broker. One gets a referral link by registering or logging in to one's FXTM account. After getting the link one needs to share it with the other person. This is a way to make money by referring others to the site. Once all conditions are completed, One and one's referral will each get $50.
One can trade with withdrawable funds using the broker's loyalty program. The more one trades, the more value one may extract from the initiative. There are levels to complete, just as there are in other loyalty schemes. specifically, As you progress through the five loyalty levels, you'll receive higher gifts at each FXTM FX brokerage stage. Every time one trades, one receives $5 in cash, with the potential to earn up to $10,000.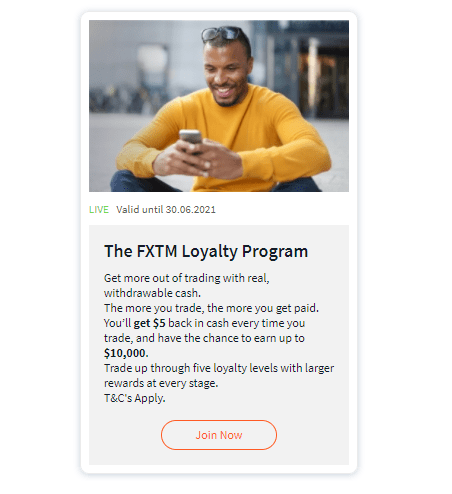 Final Verdict
Overall, we highly recommend our readers to visit the FXTM broker site and firsthand experience all of the benefits they can provide to the consumer. Firstly we want to discuss the fact that it is not only regulated but also has in total five different licenses from many regulatory organizations.
Investing in any FXTM account is well worth your time and money because it comes with a slew of advantages. FXTM accounts are fantastic since they are both efficient and functional. Consider how much a fixed spread costs in comparison to a fluctuating spread with the commission.
Over 240 tools are supported by FXTM Forex broker mobile trading. Everything from Forex to metals can be found on the broker's website. Every tool available on desktop computers is likewise supported on mobile devices, making mobile trading a no-brainer. Most traders select trading assets with adequate liquidity and price movement characteristics, allowing them to benefit.
The educational materials on the site are incredibly informative. These resources are available in different mediums like e-books, videos, and even a few blogs related to multiple forex-related topics. the videos are very direct and have a unique perspective that makes them distinctive from similar content.
As for the payment system on the FXTM FX brokerage site, there is a huge variety starting from credit cards, one can use Visa, Mastercard, and Maestro. There are ten electronic wallets that one can use to make a deposit alongside all the local financial institutions as we know that FXTM is an international company. Additionally, bank transfers are available on the site as well as a form of a deposit.
all in all, This is a great broker to do business with and we highly recommend it to our readers, The fast speed and execution process with fair trading tools and minimum deposit amounts make this a perfect place for both novice and experienced traders.