iFOREX Europe: A Solid Ship for the Online Trading Seas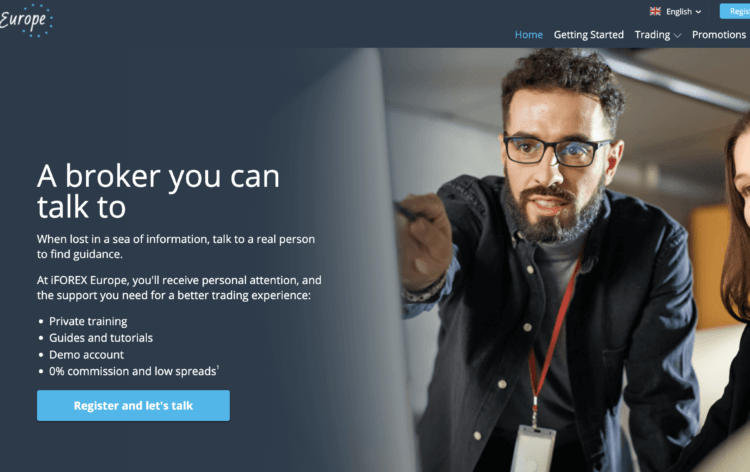 The idea behind the iFOREX Europe trading app was to produce a platform that was totally built around the user experience. The app developers made use of the 25 years of experience they had racked up in the online trading business, together with a huge amount of client feedback, to carefully design a platform that would make users as comfortable and empowered as possible. That's why the app is, on the one hand, simple and intuitive, but on the other, cutting-edge and state-of-the-art. More specifically, it's made to fit in with the time-pressured lifestyle you lead, and it allows you to open or close CFD deals with your smartphone in the moments that suit you.
Thousands of people around the globe are exploring the newly accessible financial markets through the mediums of their smartphones or PCs, but not every platform will offer you exactly what you're looking for. For a start, you must choose a brokerage that is licensed and regulated and can exhibit a proven track record of honest dealings with pleased customers.
Beyond that, you should rule out any platform that promises you a straight path ahead to easy earnings. iFOREX Europe – part of the established and well-known iFOREX Group – has always emphasized the necessity of training oneself in the ways of the financial markets and in the quirks of individual instruments. That's why there's an extensive education centre on the iFOREX Europe platform, which helps you constantly polish up your knowledge and skills. There's even the possibility of engaging in one-on-one interaction with a trading coach to make sure you've understood correctly.
Join us now, if you're in the market for a great online trading app, for a review of some of the features that make iFOREX Europe special.
Instruments
iFOREX Europe is designed to be your Grand Central Station of online trading, so it offers you an array of over 750 tradable instruments that includes company shares, stock indices, cryptocurrencies, ETFs, commodities, and forex pairs. The wide range allows you to diversify your trading activity across multiple industries and sectors, which tend to develop new connections with each other all the time. As you grow used to online trading and your knowledge base builds up, the list of your chosen trading instruments may expand, and you'll enjoy having so many of them available on a single platform.
At iFOREX Europe, you can open deals worth much more than your available capital, using a tool called leverage. For instance, you could open a deal on a forex pair like USD/JPY using leverage of 30:1, which means that, through making a deposit of only 1000 euros, your deal size would be as high as 30,000 euros. Consequently, if you opened a "buy" deal on this pair and the US dollar appreciated against the Japanese yen by 1%, your gains would equal, not 1% of 1000 (10 euros), but 1% of 30,000 (300 euros). This is made possible through borrowing capital from the brokerage, and it should be done carefully and deliberately because it also the potential to compound your losses.
Tools
iFOREX Europe customers don't have to scramble to find up-to-date rates for their instruments because the app directly provides you with all the live rates you need, without any hassles. CFD trading is all about timing and having the right inappformation at the right time, so iFOREX Europe wants to position you together with the traders who are in the know. CFD trading is also all about sensitivity to price fluctuations, so you'll benefit from the economic calendar which keeps you appraised of the events, announcements and reports that get prices jumping. No less important are news items of the moment, so iFOREX Europe provides a steady stream of relevant news too, ready for your perusal whenever some time opens up in your day.
Last Words
Visit the iFOREX Europe website to learn more about the platform and about iFOREX. Once you've been introduced to the signature Fxnet platform, known for its sleek simplicity, you can try it out with a free demo account to get the hang of things before starting in earnest.
All the technical wizardry offered by iFOREX Europe can't replace contact with real, human client support, on which the company prides itself. Get in touch with your questions or comments through email, chat or phone call and don't keep your thoughts to yourself. iFOREX Europe aims to build lasting relationships with clients, and not merely to hand over to them the power to trade, so it's a good choice as a vessel if you're looking to venture out into the online trading seas.
iFOREX Europe (formerly known as 'Vestle') is the trading name of iCFD Limited, licensed and regulated by the Cyprus Securities and Exchange Commission (CySEC) under license # 143/11. The materials contained on this document have been created in cooperation with iFOREX Europe and should not in any way be construed, either explicitly or implicitly, directly or indirectly, as investment advice, recommendation or suggestion of an investment strategy with respect to a financial instrument, in any manner whatsoever. CFDs are complex instruments and come with a high risk of losing money rapidly due to leverage. 85.37% of retail investor accounts lose money when trading CFDs with this provider. You should consider whether you understand how CFDs work and whether you can afford to take the high risk of losing your money. Please note: Calculations of past performance movements may represent the futures and not the underlying asset. Full disclaimer: https://www.iforex.eu/legal/analysis-disclaimer.html
By Vadym Goncharenko
More content by Vadym Goncharenko