Bitcoin is one of the best and the highest traded digital currency in the world. Back in 2008, when it was first introduced, there was hope for the prosperous future of the currency, yet hardly anyone would imagine such as huge boom. Bitcoin is the most popular and the most expensive digital currency, existing in the market, with a market value of almost 1$ trillion. All-time high records have been set and the new records are yet to be expected.
The price of Bitcoin is yet very volatile. It is almost undeterminable. The price of Bitcoin can not be predicted, it can not be controlled, though can be changed almost within seconds. The asset is getting more and more popular, though the authorities and financial experts are encouraging people to stay away from purchasing Bitcoin or any similar asset, due to the risks which come together with the digital currency.
The price of Bitcoin has recently descended. The change in price happened within several minutes only. The price shift was followed by the announcement made by the US Treasury Secretary Janet Yellen, who previously has almost been quite cautious when someone was speaking of the cryptos. Together with Janet, the CEO of Tesla Elon Musk also weighed on the rally of the crypto.
While Janet told that the cryptos are too risky to be investing in it, Elon Musk said that the asset was very much overrated and overvalued. This sounded like a trick, as Elon Musk was the one who bought 1.5$ billion Bitcoin a week earlier. Now, talking about the currency being overrated does not sound very realistic at some point.
It took exactly 24 hours for the world the most valuable digital coin to plunge 11%, sinking below 50,000$ and staying around $48,080 at roughly 11 AM. It had earlier fallen as much as 16% to hit the intraday low of 45,041, so it was not the whole of a surprise, yet was quite unpleasant for everyone who enjoyed investing in cryptos. Smaller digital tokens like ether and XRP also tumbled. Ether slipped 11% to $1,573, while XRP sank 17% to trade around 47 cents.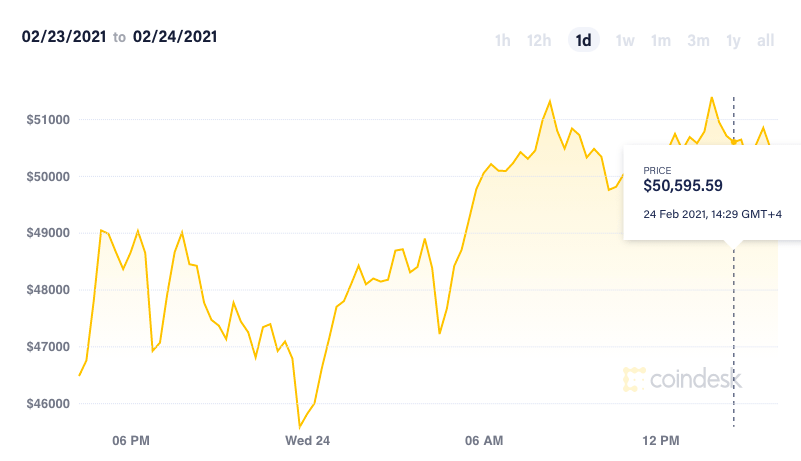 Bitcoin plunges, and could there be a new challenger on the way
Yellen on Monday called bitcoin an "extremely inefficient way of conducting transactions" and warned about its use in illicit activity. She also sounded the alarm about bitcoin's impact on the environment. The token's wild surge has reminded some critics of the sheer level of electricity required to produce new coins.
Bitcoin isn't controlled by any central authority. So-called miners run high-power machines that compete to solve complex math puzzles in order to make a transaction go through. Bitcoin's network consumes more electricity than Pakistan, according to an online tool from researchers at Cambridge University.
Yellen also warned about the risks for retail investors buying bitcoin. "It is a highly speculative asset and you know I think people should be aware it can be extremely volatile and I do worry about potential losses that investors can suffer," the former Federal Reserve chair told CNBC's Andrew Ross Sorkin at a New York Times DealBook conference.
Bitcoin is still up more than 360% in the last 12 months and around 60% since the start of the year, and price swings of more than 10% aren't a rarity in crypto markets. Bitcoin once climbed to almost $20,000 in 2017 before shedding 80% of its value the following year.
Hitting trillions
The digital coin hit $1 trillion in market value for the first time last week – though it has now sunk below $900 billion, according to CoinDesk. It has gotten a boost from news of Wall Street banks and large companies like Tesla and Mastercard warming to cryptocurrencies.
Tesla's Musk said over the weekend that the prices of bitcoin and ether "seem high." His comments came after Tesla's announcement earlier this month that it had bought $1.5 billion worth of bitcoin. Tesla shares on Monday suffered their biggest fall since September 23rd.
"It's a virtual forest fire," said Glen Goodman, a U.K.-based trader. "The wood was bone-dry and waiting for a spark. Elon Musk was that spark."
"Crypto futures traders were borrowing so much money to buy Bitcoin contracts, they caused borrowing rates to skyrocket," Goodman added. "By Saturday 20th Feb, they were paying 144% per annum. Clearly, that situation couldn't continue. In those conditions, prices have to fall to shake out the over-optimistic borrowers and return borrowing rates to normal levels."
Bitcoin has been getting traction from mainstream investors, in part because of the perception that it's a store of value similar to gold. Bullish investors claim the cryptocurrency can act as a hedge against rising inflation.
The value of the bitcoin is very unpredictable but very stimulative and simulations as well. The experts and analysts are ready to blame everything happening in the stock market on Bitcoin, which actually is linked to the highly fluctuating asset, yet obviously, the reason to blame for. The rest of the experts still considers Bitcoin as the world's greatest bubbles, and who knows where we get in a couple of years.