Yesterday the world's leading cryptocurrency news portal has announced that it will stop operating as a result of the most recent Google algorithm update. The update resulted in a 71% decline in the website traffic generated via mobile searches, which subsequently lowered the CCN's income by 90%. Jonas Borchgrevink, the founder of CCN (previously knows as CryptoCurrencyNews.com), commented that the website has been operational since the summer of 2013 and until now it managed to grow from a one-man company to the team of over 60 journalists. However, considering the recent changes in the Google Core Update, CCN is no longer willing to maintain the website.
How big was CCN?
According to the data from SimilarWeb, CCN was receiving anywhere between 7.5M and 10.5M with most of its traffic originating from the US (40%), UK (6%), Canada (3.4%) and Western Europe. Around 60% of its visitors came to the website via search engines.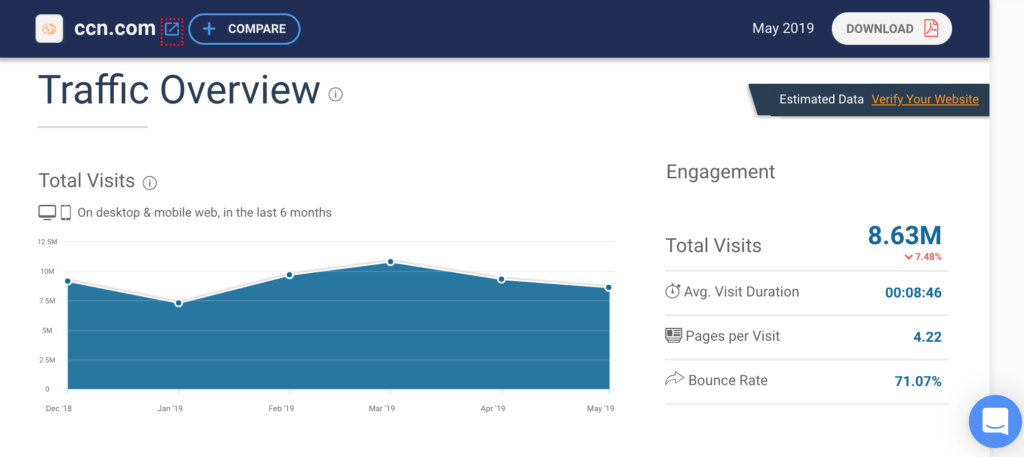 In contrast, Cointelegraph, CNN's direct competitor, receives anywhere between 4.5M and 6M of monthly visitors with roughly 45% of them coming via the search engines. CoinDesk, another competing crypto news outlet, generates around 5M to 8M visitors, and 39% of those are attributed to the search engines.
These statistics raise an important question – what was so much wrong with the website that was taking top spot in terms of the crypto traffic for a few years? Below we are going to discuss a few theories and its possible impact on the future of the financial media and Alphabet stock (Google's parent company)
Google seems to display less recent news pieces
We have tried running some experiments and it seems like Google no longer showcases very recent news, rather than that Google prefers to point the news seekers to more generic websites.
When searching for "cryptocurrency news", at 00-00 UK time, we were shown the following results in Google's Top Stories section: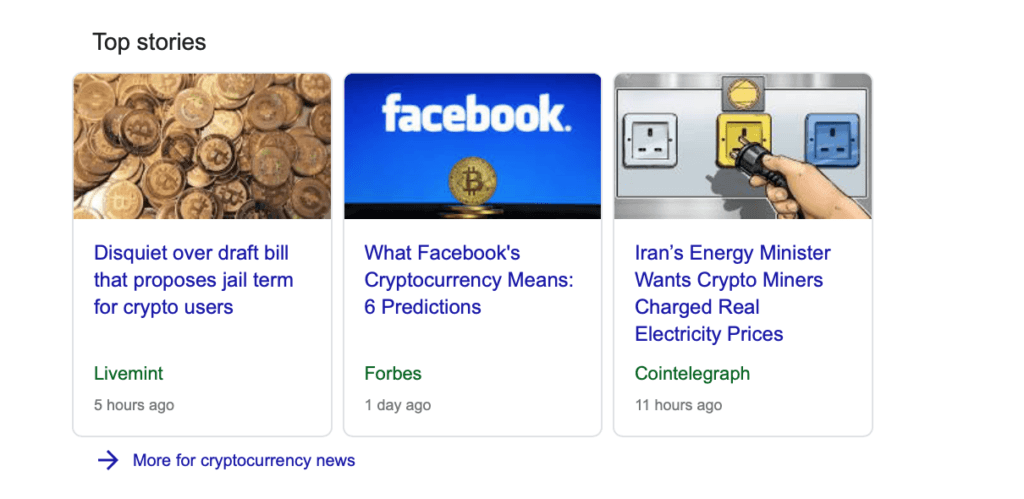 When conducting the same query 8 hours later, only one out of three results was changed: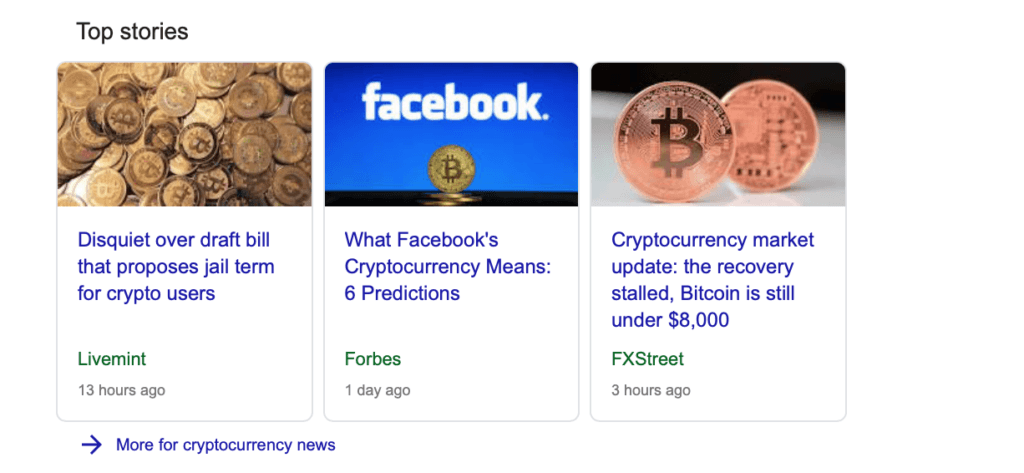 This is a clear sign that Google no longer displays the most recent news, rather the news pieces that are believed to come from the site that has a higher authority. But is this really true?
It actually stroke us that only one out of three top stories came from a crypto-related website during the first query. And when searching for cryptocurrency news again, we were unable to see any crypto websites.
Does Google seem to favor Adsense websites?
Google makes the largest share of its revenue from selling advertising spaces on its search engine. However, next to displaying the ads at the search results, Google also runs an advertising network – Adsense. The network serves various text, image, video and other ad units on the websites that do not belong to Google. The advertisements served on the publishers' websites are moderated and maintained by Google, and the publisher is paid a share of Google's revenues. Hence, it is logical to state that the more traffic is received by the publishers within Google's Adsense network, the larger Google's income will be.
Out of 4 websites that we have been shown at the Top Stories section during our searches for "cryptocurrency news", only Cointelegraph had no Adsense units in place. While this certainly cannot be used as proof that Google prefers to generate more traffic to the sites with Adsense enabled,  this is certainly a field that requires more research.
Potential future of the financial media
What we clearly see is that less and less financial outlets are generating traffic from Google News and Google Top Stories index. Instead of showcasing thematic but smaller sites, Google now prefers to provide visitors to more generic sites with larger age and authority.
What is the possible impact on Alphabet stock price?
Having sites like CCN going out of business and many other crypto and financial media outlets losing a large share of their traffic is a clear sign that something is not right. Considering the campaign launched by CCN to fight Google's monopoly, there is a high probability of many events to happen:
An investigation could be conducted on the fairness of Google practices (Google was recently fined 1.5B EUR in EU)
An alternative search engine developed by crypto enthusiasts
A certain separation of Google to make it less a monopoly
Considering all of the above possibilities, it does not seem like a good time to invest in Alphabet stocks.