The iFOREX Europe Trading App Opens Doors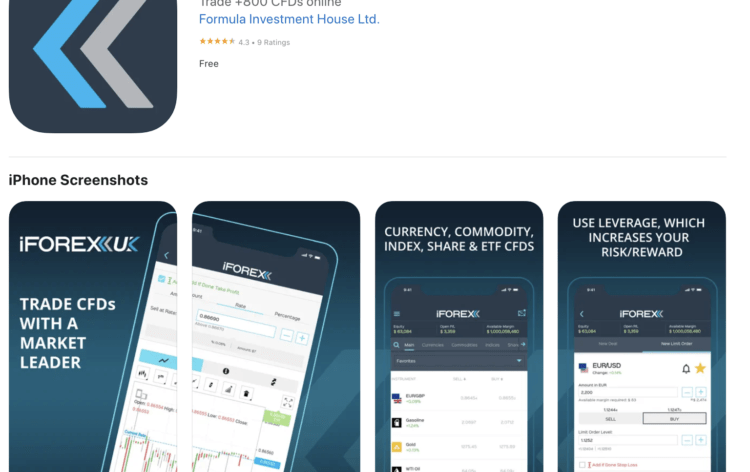 Online CFD trading platforms have seen their popularity skyrocket in the last few years. The reason for the growing interest is that these platforms set up their clients to access major financial markets all around the world, using only the smartphones in the palms of their hands. The relatively new accessibility of online trading has encouraged many people without financial trading experience to think of opening the door to trading CFDs themselves.
CFD trading apps may open up interesting and exciting opportunities, but there's a big difference between the trading experiences offered by the various platforms out there. For instance, not every platform offers an all-inclusive experience that helps traders educate themselves about their financial markets of choice, about CFD trading in general, and about advanced trading techniques.
Many of the platforms you'll find using a Google Search are simply geared to connect you to online trading as quickly as possible, with little regard for helping you navigate the confusing seas of the financial markets once you're connected. Aside from this, not every platform is able to successfully blend cutting-edge technology with intuitive usability in a way that actually empowers users. Still fewer are able to boast customer support in the form of real, live human beings who can be spoken to on the telephone.
In this article, we'll offer a review of the iFOREX Europe trading app, which is created and managed by one of the foremost online brokers in the business – iFOREX Group – who are known for having clocked up more than 25 years of experience in the field.
The Platform
The iFOREX Europe app stands out because of the careful forethought that's evident behind every detail of the platform. The finished product emerged from iFOREX Group's painstaking process of consultation with actual clients and professional traders. The fruit of all this research is the iFOREX Europe mobile platform, which is sleek, to-the-point, and streamlined in all of its functions, but which also offers step-by-step, easy-to-use educational materials to support traders as they go. The materials range from PDF guides on a number of relevant topics, video tutorials for those who prefer to learn visually, and informative articles to help you expand your knowledge base.
Traders like the platform because it gives you updates on the market, and on your account, as they happen. You'll be firmly in the driver's seat because there aren't any limits to your ability to access your wallet, your balance sheets, and margin details. One of the key features you'll enjoy is the easy access to live rates in any financial market you choose. You'll want to be the first to know about price changes in your instruments of choice. The economic calendar will ensure you won't miss out on any economic event that could impact asset prices. It'll let you know when Federal Reserve Bank meetings are scheduled, and when crucial employment or inflation data is due to be released.
Instruments
The number of CFD trading instruments you'll have available to you exceeds 750, and includes commodities like coal, oil, and natural gas; company shares in a variety of different markets like tech, aviation, and automobile; and cryptocurrencies like Ripple, Litecoin, and Ether. If you're a forex trader, you'll be able to trade all the major currency pairs with leverage of up to 30:1.
Leverage, which is available on many other instruments as well, is the power to open deals many times more valuable than your account balance, by means of borrowing funds from the brokerage. In this way, your potential gains are magnified many times over, but remember that the same is true of any losses you might take in a leveraged deal. If you prefer, you could trade in the price movements of big stock indices like the Germany 40 or the US 500. And there's also the popular market in ETFs, which track baskets of assets in various industries.
Wrapping Up
We recommend the iFOREX Europe trading app both for seasoned CFD traders and those who are still getting going. The reason is that the platform is designed to support traders of all levels, propping them up with refresher courses when they're needed, and assisting them in reaching new plateaus in their financial trading journeys.
iFOREX Group also made the issue of payment fairly straightforward. You can make deposits in your account using both online and offline methods, including credit and debit cards, eWallets, and bank wire.
If you'd like to give it a shot, you can download the iFOREX Europe app free of charge on Google Play or the App Store. Once you've done so, you can customize your interface to be just the way you like, and you can start off by practicing with the $5,000 Demo Account until you're ready to move ahead with real trades.
iFOREX Europe (formerly known as 'Vestle') is the trading name of iCFD Limited, licensed and regulated by the Cyprus Securities and Exchange Commission (CySEC) under license # 143/11. The materials contained on this document have been created in cooperation with iFOREX Europe and should not in any way be construed, either explicitly or implicitly, directly or indirectly, as investment advice, recommendation or suggestion of an investment strategy with respect to a financial instrument, in any manner whatsoever. CFDs are complex instruments and come with a high risk of losing money rapidly due to leverage. 88.98% of retail investor accounts lose money when trading CFDs with this provider. You should consider whether you understand how CFDs work and whether you can afford to take the high risk of losing your money. Please note: Calculations of past performance movements may represent the futures and not the underlying asset. Full disclaimer: https://www.iforex.eu/legal/analysis-disclaimer.html
By Vadym Goncharenko
More content by Vadym Goncharenko