Summary
Water Intelligence plc is a micro cap growth stock trading on the FTSE AIM All-Share index of the London Stock Exchange. The company is a leading provider of leak detection and remediation solutions.
Water Intelligence plc is able to detect leaks in a non-invasive way by using innovative technology including infrared, acoustic and correlation equipment.
This is one of their key selling points as it allows water leaks to be accurately detected without having to break through any walls or floors, which would not be the case with traditional plumbing.
These non-invasive leak detection methods help to lower repair costs, conserve water as well as maintaining the original look of the property.
There is also a range of products the company offers including 'Leakfrog' which was developed in partnership with Thames Water and allows water companies to monitor their customer's homes for leaks remotely.
Water Intelligence plc operates in a number of countries under different subsidiaries. This includes the UK, USA, Canada, Australia, Spain, Belgium and more, servicing thousands of homeowners and commercial businesses each year.
The Fundamental Case
Their most recent trading update shows the company had revenues of $8.5 million in the first 6 months of this year, a growth increase of 50% over the same period last year.
The company has seen revenues grow year after year for the last 5 years and states that "the key drivers underlying the Group's sales are also accelerating".
Water Intelligence plc is aiming for annual revenues of $20 million and look to achieve this through their "multi-national" growth plan. This involves maximising the opportunities of markets they are currently operating in as well as expanding throughout Europe.
The fact they are already successfully operating in a number of countries as well as having the accelerating year on year revenue growth provides some optimism that they can achieve their target.
Water Intelligence plc's market cap is currently £15.9m which could certainly rise if the company continue to progress towards their target.
The technical picture
The share price has been in a strong uptrend since the start of 2015 with the share price finding support on the way up near the 200-day moving average.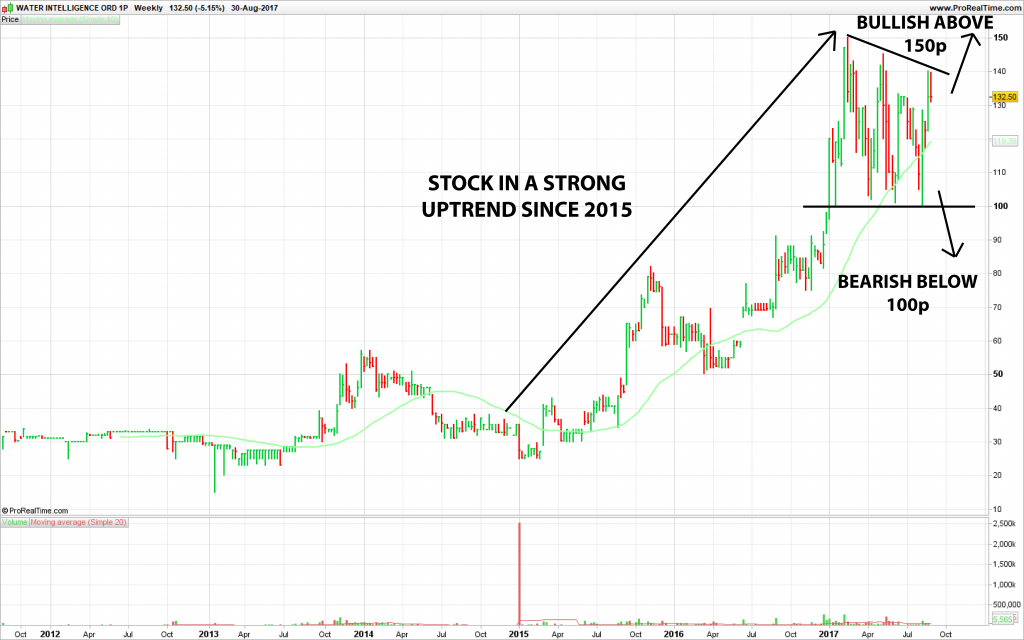 Since making an all time high in February 2017 the share price has been consolidating with some choppy sideways price action. It would be nice to see the price action tighten up and eventually break out of the consolidation pattern to create new all time highs.
A bearish scenario would be if the share price broke down below 100p, particularly on heavy volume as this could indicate the possible end of the current uptrend.
Conclusion
Both the fundamental and technical analysis looks strong so far for this stock with accelerating sales and the share price in a long term uptrend.
It's important to keep an eye on both the fundamental and technical case for this stock, however, let the technical price action be your primary indicator. You will often find the fundamental news comes in late after a substantial move to the upside of downside.